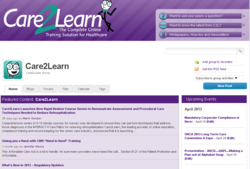 "The Care2Learn Social Community provides a place for our client administrators to brainstorm, interact, share and understand best practices." – Care2Learn President Tamar Abell
Tampa, FL (PRWEB) April 17, 2013
Care2Learn, the leading provider of online education, compliance training and record-keeping for the senior care industry, announced it has launched the Care2Learn Social Community for its more than 4,000 clients and 10,000 customer administrators and champions. The Care2Learn Social Community will serve as an environment for peer communication to foster the sharing of best practices in training and compliance for the senior care industry.
"With ACA, QAPI or mandatory corporate compliance, training, staffing skills and care procedures are front and center in ensuring that a provider is staying current with regulations," said Tamar Abell, president of Care2Learn. "The Care2Learn Social Community provides a place for our client administrators to brainstorm, interact, share and understand best practices to support their community's regulatory compliance efforts."
About the Care2Learn Social Community
The community will serve as a venue where administrators can access a wide variety of tools that will enable them to:

Share ideas on training and other topics shaping the senior care industry
Stay up to date on advancements in online training and record-keeping
Gain access to reference materials to improve and expand training programs
"It's all for our customers," stated Terri Richardson, Care2Learn's director of customer services. "We built the community so our clients could learn from their peers in similar situations, share ideas and explore best practices on anything, not just training and record-keeping. Additionally, it will serve as a central repository for Care2Learn's support team to communicate content advancements, feature innovations, and course introduction and accreditation updates in real-time community conversations."
The Care2Learn Social Community is an integrated feature of the Care2Learn Learning and Performance Engine (LMS) and will serve not only as a place for peer-to-peer interaction but also as a resource library for information shaping training, compliance and care issues:
Industry perspectives and news
How-to guides
Whitepapers
Training handouts
"Care2Learn's social community allows me to reach out with questions to other education leaders for real working solutions to issues I face in my communities every day," said Sherry Johnson, Director of Clinical Development at United Clinical Services UHS-Pruitt Corp. "Moving from a paper-based record-keeping model for tracking education and individual employee files to an electronic online model is a huge undertaking. Seeing how others have done this or are in the process of this transition is helpful."
About Care2Learn
Care2Learn delivers superior online education and training for the senior care industry and holds more than 70 state and national accreditations. Through its award-winning healthcare Learning and Performance Engine Care2Learn offers individual courses as well as large-scale corporate training solutions for healthcare organizations featuring customizable and easily accessible online universities with a full range of tracking and reporting features. With an online library exceeding 500 courses authored by more than 150 subject matter experts, Care2Learn serves more than 300,000 healthcare professionals in all 50 states and Canada. Founded in 2000 and acquired in 2007 by eLearning provider VectorLearning, Care2Learn is headquartered in Tampa, Florida and is the recipient of numerous community honors and industry rewards. In 2012 Care2Learn merged with healthcare eLearning and record-keeping provider Upstairs Solutions to provide even more products and services for its online users. For further information, visit http://www.Care2Learn.com or http://www.Care2LearnEnterprise.com.