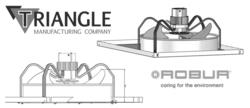 Oshkosh, WI (PRWEB) April 18, 2013
Triangle Manufacturing is proud to partner with Robur, who offers one of the most advanced solutions in HVAC, using up to 40% of renewable energy. Robur, an Italian manufacturer of heat pump heating and cooling systems and Triangle, a Wisconsin-based manufacturer of motor mounting brackets have partnered together to create capable systems for Europe's stricter high-efficiency standards.
Environmentally friendly and highly efficient, Robur units are ideal for heating multi-family houses, industrial buildings and commercial facilities. Robur units permit a considerable promotion of the building's energy classification. Robur utilizes Triangle's motor mounting brackets in their heat-pump line. These mounts are designed with sturdiness and strength for heavy duty vibration suppression and are adaptable to efficient assembling. Robur uses Triangle's TS arms, which are custom designed for use in direct drive blowers and fans. Triangle's arms are available with three or four arms and are galvanized for corrosion-resistance.
Robur chose a fan with a large blade because of new European regulations that began in 2013 to reduce the electric consumption of the motors (ErP 2013). Robur decided to modify their existing fan assembly in order to be compliant with this new European standard.
Due to the large pitch of the new fan, a new motor mount had to be designed to provide the necessary clearance for the fan while keeping the fan motor shaft as short as possible. Triangle responded with custom designed motor mounts with much larger curved arms than previous versions utilized. This deeper curve was a direct result of the extra-large fan blades and led to a complete re-design of the motor mounts.
Robur chose to keep the existing mounting system because they've had positive feedback throughout their more than twenty years of business with Triangle. The new, slightly different blade was a great project for Triangle to modify and adjust the mounting system to fit with the new layout.
About Robur
Founded in 1956, Robur is a leading manufacturer whose mission is to offer energy-efficient, natural gas heating and cooling solutions capable of significantly reducing environmental impact. They achieve this mission through an ongoing, practical commitment to research, innovation, respect for people and for the environment. Please visit http://www.robur.com for more information.
About Triangle Manufacturing
For almost a century, Oshkosh, Wisconsin's Triangle Manufacturing Company has used a foundation of experience paired with technical know-how and advanced automation to be the leader in fully customizable metal fabrication, product innovation and invention. We have introduced and redesigned fresh products that are progressive in their respective industries. Whether you need lazy susan bearings and HVAC components, pillow block mountings and blower bearing brackets or rod ends and direct-drive motor mounts, you can rely on Triangle Manufacturing's Creative Engineering. For more information, samples or quotes, visit us at http://www.TriangleOshkosh.com.
Contact:
Kylie McGowan
Marketing Coordinator
http://www.TriangleOshkosh.com
info(at)triangleoshkosh(dot)com