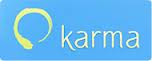 We have created a platform for businesses, especially small and medium sized ones, where they can manage their productivity levels with a simple and easy-to-use CRM with a powerful back-end
New York, New York (PRWEB) April 17, 2013
Business Review today congratulates karmaCRM for its dedication to helping SMB's (small and medium sized businesses) manage and grow their sales revenue with an easy-to-use, cloud based CRM capable of managing customizable content on demand anytime and anywhere. Users can also access content on their smartphone via the karmaCRM app. Equipped with Internet access, SMB's can access the online CRM in real time, making customer interactions timelier and less costly. KarmaCRM's features are displayed on an easy to use interface, ensuring that businesses do not need to purchase expensive software or downloads.
With the online CRM, SMB's can manage sales contacts, tasks and proposals and communicate with clients, prospects and other team members on the road or in the office in real time without the hampering of an onsite desktop device. "KarmaCRM is enabling companies to capture and analyze data to achieve better product delivery and ultimate customer service," John Paul Narowski of karmaCRM says. "CRM solutions used to only be stored in central databases consisting of hardware and network infrastructure. Now, with the advancement of cloud based technologies, many companies are drifting away from expensive hardware and moving to Internet-based solutions. We have created a platform for businesses, especially small and medium sized ones, where they can manage their productivity levels with a simple and easy-to-use CRM with a powerful back-end."
Users of karmaCRM can enjoy web based contact management software features such as bulk updating, contacts, calendar, tasks, forms, files, permissions and integrations to manage productivity flow. Third party integrations such as Google Calendar, Freshbooks and MailChimp allow users to seamlessly access related content at their fingertips. The cloud based technology ensures businesses can take advantage of real time accessibility and not be hampered by cumbersome databases when managing and growing their projects.
-30-
Founded by John Paul Narowski in 2010, karmaCRM is a small business CRM system for small and medium sized businesses. KarmaCRM is 100 per cent cloud-based, making it simple for companies using any system to stay on top of sales contacts, tasks, and proposals. The customer relationship manager hides a powerful back end system behind a clean, simple and usable interface. Company headquarters are in Ann Arbor, Michigan.