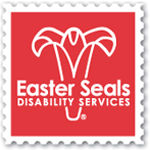 "We are amazed at the impact that Safeway, its customers and employees have made each year on the lives of our clients and their families,"
Chicago (PRWEB) April 16, 2013
Safeway is halfway through its annual campaign to support children and adults with disabilities. But the good news is that there's still time to help. Over the last two weeks, each of the company's Safeway, Vons, Pavilions, Dominick's, Tom Thumb, Randalls and Carrs stores have been collecting donations at checkout.
As part of its long-held tradition of support and advocacy for people with disabilities, Safeway Inc. and The Safeway Foundation launched their annual fundraising campaign earlier this month to benefit Easter Seals, the Special Olympics and a range of organizations that help people with disabilities live fuller, more independent lives.
"We have designated April as our time to make a difference in the lives of countless people served by these well-respected organizations," said Larree Renda, Safeway Executive Vice President and Chair of The Safeway Foundation. "Because one in five people live with a physical or intellectual disability, few causes resonate as deeply with our employees, customers and in our neighborhoods as the need to help people with disabilities reach their full potential."
The company's support for the People with Disabilities campaign, along with other fundraising activities, has contributed more than $140 million to Easter Seals, Special Olympics and an array of organizations that assist people with special needs.
Funds donated by Safeway's customers have helped to expand early intervention programs, which are critical for special-needs children, especially those with autism or other disabilities, among other vital services that help children and adults with special needs.
"We are amazed at the impact that Safeway, its customers and employees have made each year on the lives of our clients and their families," said James E. Williams, Jr., President and Chief Executive Officer, Easter Seals. "We encourage shoppers to give a little hope to people with disabilities during the remaining days of the campaign."
About Easter Seals
Easter Seals has been helping individuals with disabilities and special needs, and their families, live better lives for nearly 100 years. From child development centers to physical rehabilitation and job training for people with disabilities, Easter Seals offers a variety of services to help people with disabilities address life's challenges and achieve personal goals. Learn more at http://www.easterseals.com
About Safeway
Safeway Inc. is a Fortune 100 company and one of the largest food and drug retailers in North America, based on sales. The company operates 1,641 stores in the United States and western Canada and had annual sales of $44.2 billion in 2012. http://www.safeway.com
About the Safeway Foundation
Founded in 2001, The Safeway Foundation supports causes that impact our customers' lives. Our stores provide the opportunity to mobilize funding and create awareness in our neighborhoods through our employees' passion, partnerships with our vendors, and the generous contributions by our customers. We focus on giving locally in the areas of health and human services, hunger relief, education and helping people with disabilities. Safeway Inc. and The Safeway Foundation has invested $1 billion in our neighborhoods since 2001. For more information about The Safeway Foundation, visit http://www.safewayfoundation.org.