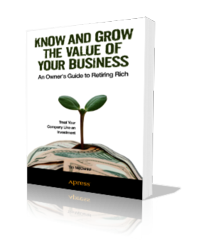 "Owners of businesses who read this book will understand fully the importance of looking at their business like an investment. They will be grateful for Tim's insight." —Beatrice E. Wolper, President, Emens & Wolper Law Firm
New York, NY (PRWEB) April 17, 2013
A woman looking to retire said to author and valuation expert Tim McDaniel, "I need to sell my business for $2.5 million to support my country club lifestyle." The reality was that her business was worth $750,000. How could she have been so wrong? As McDaniel—a veteran of over 2,000 valuation engagements and dozens of M&A deals—knows all too well, most owners work in their businesses and not on their businesses. He has seen the look of surprise on client faces far too often when they say, "It's only worth that much?"
In the rush of day-to-day work and decisions, business owners sometimes forget that their business is an investment—and something they need to watch, nurture, and care for just as they would a valuable antique vase or painting. "Know and Grow the Value of Your Business: An Owner's Guide to Retiring Rich" shows readers how to develop the "investment mindset," value the business, bolster that value and maximize the return on their investment, and, finally, exit the business either through a sale to outside parties or by passing it on to family or other business insiders.
This information couldn't be more important: Typically, 60–80% of a business owner's wealth is tied up in the value of the business. This is their most important asset, but they usually guess at its' value and have no concrete plan to increase it. That's why this book shows the importance of treating your ownership interest in a business as something deserving near-daily attention. McDaniel clearly outlines how a company is valued, and how others outside the business view that value. He gives steps to immediately increase the value of a business. Examples of the different kinds of potential buyers and what attracts them, how to view the business objectively to plan for a brighter future and in worst case scenarios, how to exit the business are also included.
In short, this book helps business owners get the most for their business when they decide it's time to move on. According to Beatrice E. Wolper, President of Emens & Wolper Law Firm, "Whenever Tim is involved with my clients, I know they will understand the process and the valuation conclusion. He does a great job explaining issues in plain English without complicated statistics or formulas. His perspective on valuations is much wider than mathematical formulas, high finance, or theories." Wolper believes business owners should read this book to "understand fully the importance of looking at their business like an investment. They will be grateful for Tim's insight."
To learn more about "Know and Grow the Value of Your Business: An Owner's Guide to Retiring Rich," visit http://www.apress.com/9781430247852 .
"Know and Grow the Value of Your Business: An Owner's Guide to Retiring Rich"
ISBN: 978-1-4302-4785-2
252 pages
User Level: Beginner to Advanced
Publication Date: March 13, 2013
Available eBook Formats : EPUB, MOBI, PDF
Print Book Price : $24.99
eBook Price: $17.99
About Tim McDaniel
Tim McDaniel is director of business valuations at Rea & Associates in Columbus, Ohio. McDaniel specializes in business valuation and succession planning. He is a recognized leader in the business valuation field, having been involved in over 1,800 valuation engagements and numerous merger-and-acquisition transactions. A certified public accountant and the author of nearly twenty articles in publications like CPA Voice, American Venture Magazine, and Practical Tax Strategies, he has obtained the top three professional valuation credentials (ASA, CBA, ABV).
About Apress Media
Apress Media LLC is a technical and business publisher devoted to meeting the needs of IT professionals, software developers, programmers, and business leaders with more than 1,000 books in print and electronic formats. Apress provides high-quality, no-fluff content that helps serious technology professionals build a comprehensive pathway to career success. For more information about the innovative approach Apress takes to publishing, please visit http://www.apress.com.