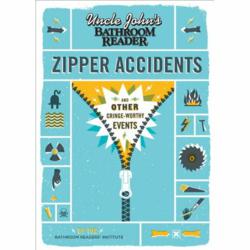 I will never tire of reading about laugh out loud accidents – as long as they are happening to someone else…
San Diego, CA (PRWEB) April 17, 2013
For 25 years, the editors at the Bathroom Reader's Institute have held a special place in their hearts for those "OMG" and "LOL" moments in life. The one's that people wish they could take back. The ones that the subjects of the story wished were never published in a book. But of course Uncle John loves to read about these times, and couldn't wait to share them with his fans in the new Uncle John's Reader® Zipper Accidents and Other Cringe-Worthy Events.
"I will never tire of reading about laugh out loud accidents – as long as they are happening to someone else… " said Gordon Javna, Editor-in-Chief, and Publisher of Portable Press which publishes Uncle John's Bathroom Reader ®. "For over twenty-five years I've been itching to publish a book that makes readers laugh and wince at the same time. This book is really the best of the worst."
This latest edition of Uncle John's Bathroom Reader brings over 250 pages of stories that will make you repeatedly say, "What were they thinking?" With stories such as the father who carved the Thanksgiving turkey with a chain saw to the man who tried to rid his house of bees using fire, this book chronicles some fantastically funny head-scratching moments. And just when you think people can't do anything more stupid, Uncle John introduces you to stories from the ER and characters such as the man who used the table saw in the nude, nicked his private parts and then tried to use a staple gun to get everything back together.
With more than 12 million books in print, Uncle John's Bathroom Reader® has proven that there is a niche, and a need, for good bathroom reading. From children's books to state-specific titles, word puzzles, and even fiction, the Bathroom Readers' Institute has covered a variety of topics in its remarkable 25-year run.
Uncle John's Bathroom Reader Zipper Accidents and Other Cringe-Worthy Events ($9.95 ISBN 1-60710-778-1) will be available now online at amazon.com and barnesandnoble.com, and can be found wherever fine books are sold.
About Portable Press
Portable Press is an imprint of Baker & Taylor Publishing Group, a division of Baker & Taylor, known as a world leader in digital and traditional media distribution. For 25 years, Portable Press and the Bathroom Readers' Institute (http://www.bathroomreader.com) have squeezed out the competition with the Uncle John's Bathroom Reader® series to become the longest-running, most successful, and bestselling bathroom reader book series in North America. With more than 10 million copies in print, you can trust Uncle John to bring you the best in pop culture, forgotten history, strange lawsuits, the origins of everyday things, weird news, and more.