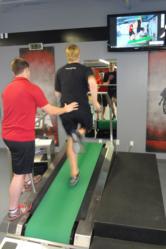 The fundamentals of speed can be trained year round
Park City, UT (PRWEB) April 18, 2013
Athletic Republic, a leader in sports performance training, outlined the 5 Fundamentals of Speed as part of their annual "Summer of Speed" campaign.
"Speed is a defining attribute of athleticism. No longer considered a genetic gift, speed is a skill that ultimately depends on how effectively an athlete puts force into the ground," said Steve Swanson, Chief Science & Technology Officer at Athletic Republic. While summer is a great time to develop speed skills, especially for fall sports, the bottom line is the fundamentals of speed can be trained year round," added Swanson. Like any skill, speed can be improved by training five fundamental components: stride length, stride frequency, power output, symmetry, and stamina.
1. Stride Length - Perfect foot contacts maximize stride length, which is defined as is the distance traveled with each step. Increasing stride length allows an athlete to cover more ground in the direction they need to move with each step—whether moving forward, sideways, or backwards. Maximizing effective stride length is done by increasing power output (how much and how fast force is applied to the ground) and optimizing the direction force is applied. If an athlete moves better and produces more power, they will improve stride length.
2. Stride frequency – This key element is improved when the quantity of perfect foot contacts an athlete makes in a given amount of time increases. Stride Frequency is a function of how quickly an athlete applies force during contact with the ground AND how quickly and skillfully he moves his leg through the air to prepare to make the next perfect foot contact. Improving power output and mechanics during contact with the ground and during the recovery phase (repositioning the limbs in the air) will increase stride frequency. Athletes need powerful lower abdominals and muscles surrounding the hips to execute good recovery mechanics. Recovery phase mechanics are vital in order to get in a good position to make a perfect foot contact--as the faster you run, the less time you spend on the ground
3. Power Output – Improving your power output during all phases of sprinting will increase your speed. Incline running on a treadmill is a great method to improve power output since the treadmill doesn't slow down when the athlete gets tired or makes a mistake in their mechanics. Using a combination of a strategically-placed mirror, instant replay video to monitor technique and a skilled trainer standing right next to the athlete provides a great environment for improving running mechanics and power. Strength and power training targeting key muscle groups for speed development like the hips, trunk, legs and upper body are essential for improving raw power and dynamic stability. Controlled, weighted jumps combined with eccentric overload training provide a proven way to maximize raw power output. Ground-based agility, ladder, cone and plyometric drills focused on improving the fundamentals of accelerating, decelerating, cutting, jumping and landing are vital for transferring improvements in power and conditioning to the playing field.
4. Symmetry - An athlete is only as fast or powerful as their weakest leg. Symmetry is the balance in the power developed during contact and recovery between the right and left leg. Training to ensure each leg is equally stable and powerful first involves a reliable assessment of the power output and dynamic stability between legs. If power output differs above a certain percentage, the weaker leg is targeted in training. Typical methods include single leg lifts, jumps, and agility drills performed at a wide range of loads, velocities and directions.
5. Stamina - This is an athlete's ability to sustain power throughout competition. Sprinters only need to produce power for a few seconds, but most sport athletes must maximize speed and power, recover, and then do it over and over again. This demands a level of conditioning that will allow an athlete to maintain form and technique while fatigued. A year-round training plan that incorporates an athlete's in-season, post-season and pre-season development is required to build speed and stamina while reducing the risk of injury.
"Every athlete has the capacity to improve their first step, create separation from a defender, close a gap on an opponent, make a quicker cut, increase their endurance and improve their top end speed," said Swanson. "It requires a commitment to performance training and improving in each of the five fundamentals to prefect the skill of speed," added Swanson. To find out more about the "Summer of Speed" and improving your speed skills, visit an Athletic Republic performance sports training center near you or contact us at 435.647.9000.
About Athletic Republic: Athletic Republic is the nation's leading franchisor of evidence-based performance sports training centers. Over 800,000 athletes have taken advantage of its individualized, sport-specific training programs to enhance their speed, power and agility to gain more than just a step on their competition. More information regarding Athletic Republic can be found at http://www.AthleticRepublic.com.