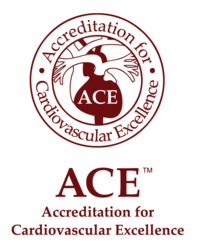 ACE is the only provider of cardiac cath lab accreditation, and we assist the cath lab in development of an integrated quality program and a thorough and in-depth review of documentation.

Mary Heisler, RN, BA, Executive Director, ACE
Washington, DC (PRWEB) April 17, 2013
The Accreditation for Cardiovascular Excellence (ACE) will exhibit at the Society of Cardiovascular Patient Care (SCPC) 16th Congress on April 24-25, 2013 in Orlando, FL at booth number 21. ACE provides cardiac cath lab accreditation and E3 ; More Than Peer Review services. The mission of SCPC is to accredit hospital service lines for Acute Coronary Syndrome (ACS), Heart Failure (HF) and Atrial Fibrillation (A-Fib). ACE's expertise is in the cardiac cath lab and ACE is the only organization that provides cardiovascular specialists for accreditation and peer review.
Strategic presentations on quality of care for the cardiac patient at the 16th Congress are offered on Wednesday, April 24, 2013:
1. 1st Keynote Address, Brady Augustine, President and CEO, Aggressive Analytics will speak on Value-Based Purchasing - Making it Real on the Front Lines, 11:30 am – 12:15 pm.
Discuss the intent and scope of payer efforts to align provider payment with performance, Understand CMS' and other payers/purchasers various models and programs to incentivize provider performance, how individuals and their departments can impact an organization's bottom line through better care.
2. How to Conduct a Successful Interdisciplinary Case Review, Louis G. Graff, MD, FACEP & L. Kristen Newby, MD, MHS, 2:30pm - 3:15pm
Errors in assessment, handoff, inappropriate delays, EKG misinterpretation, cath lab missteps will be discussed, steps identified to eliminate future errors, how to implement education programs or case reviews, and analyze pathway changes/ address interpersonal disagreements.
The 16th Congress is an important venue for clinical insights that support quality patient care in the Acute Coronary Syndrome (ACS), Heart Failure (HF) and Atrial Fibrillation (A-Fib) service lines. ACE supports this effort with their mission to improve cardiovascular care in the cardiac cath lab community. "ACE is the only provider of cardiac cath lab accreditation, and we assist the cath lab in development of an integrated quality program," notes Mary Heisler, RN, BA, Executive Director, Accreditation for Cardiovascular Excellence. ACE exists to help you on your quality journey. Visit ACE at booth 21 or call for a free 1 hour consultation, (202) 657-6859.
About Accreditation for Cardiovascular Excellence
ACE, an independent organization sponsored by the Society for Cardiovascular Angiography and Interventions (SCAI) and the American College of Cardiology Foundation (ACCF), offers independent evaluation and monitoring of facilities that provide cardiovascular care. By reviewing facility and operator performance and comparing clinical decision-making to nationally accepted best practices, ACE peer review and accreditation services plays a critical role in continuous quality improvement programs. Learn more at http://www.cvexcel.org.