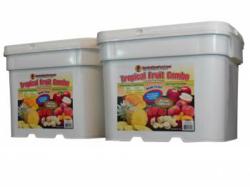 Helping Families Prepare
Poway, CA (PRWEB) April 18, 2013
Survivalcave Inc., an innovator in emergency food storage announced today that their great success in their original SurvivalCaveFood.com line http://www.survivalcavefood.com of long term storage canned meats and freeze dried foods, has led to the expansion of new products. They now are introducing a delicious line of freeze dried fruits in six different types of fruits. http://survivalcavefood.com/index.php/survivalcavefood-freeze-dried-fruits-150-servings.html. These delicious fruits come in pineapple, mango, apple, banana, strawberry and peach. Each fruit is packaged in specially manufactured gold bags that are designed to prevent the transmission of oxygen from entering the bag. Each bag is vacuum sealed and contains an oxygen absorber in each bag. The bags are then conveniently packed into light weight plastic buckets in 150 and 300 serving containers.
The original lines of gourmet freeze dried foods and canned meats are available nationwide and these new fruit buckets are sure to be a retail success like the products that are already part of the Survival Cave Food line. "Since all of our fruits are made from the finest fruits available and no sugars or other ingredients are added, it allows the great taste of the fruits to come through" said J.R. Fisher, President of Survivalcave Inc.
The reviews are in.
Survivalcave Inc. emergency food storage distributors and customers have already judged this new product line as one of the best products available in the market and have said the pricing is far better than the current competition. Since the announcement, distributors throughout America have been placing orders for their inventories to meet the projected demand.
Survivalcavefood.com Availability
Survivalcave Inc. has partnered with select distributors nationwide to retail their products and it can now be found at a small number of approved of websites on the internet and some specially retail store outlets.
For more information, press only: Jessica Fisher, 800-719-7650
info(at)survivalcavefood(dot)com. For more information on Survivalcave Inc. Products:
http://www.survivalcavefood.com