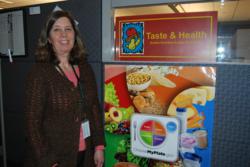 "We really need to encourage our policymakers to provide funding for obesity prevention, especially for young children. The obesity epidemic is only getting worse, and the time
to start building healthy habits is in early childhood."
Seattle, Washington (PRWEB) April 30, 2013
Local 17 member and King County Nutritionist Adrienne Dorf spends her days helping childcare programs create healthy environments for children, and is building support for resources that will keep kids healthy and active.
Along with a small team of five nurses and one child psychologist, Dorf visits licensed childcare programs around King County to assist the staff in each facility with providing a healthy and safe environment for children. Nearly all of the facilities that she visits are in low-income communities.
During her site visits, Dorf assesses food safety, menus, mealtime, physical activity, and the attention given to children who have special needs, like food allergies and diabetes. She also works with each facility to help figure out ways to purchase healthy food in a less costly manner. The team does not enforce regulations; rather, they provide recommendations to help facilities address areas of improvement.
"One of the biggest challenges is that the public expects a lot from childcare providers. They are juggling a lot of responsibilities—regulations, costs, and, of course, the children's well-being, but they are generally people who are paid very poorly and who do not feel very empowered to make changes to the system," said Dorf.
Dorf has a particular interest in obesity prevention, and she recently presented information to the Early Learning Advisory Council, a body created by 2007 Legislature to provide recommendations to the Washington State Department of Early Learning. Her presentation, "Promoting Healthy Eating and Physical Activity in Early Learning Programs," contained best practices for providing good nutrition and encouraging healthy habits in children in childcare programs. She hopes that this will lead to the establishment of policies and systems within the Department of Early Learning that support obesity prevention.
"We really need to encourage our policymakers to provide funding for obesity prevention, especially for young children. The obesity epidemic is only getting worse, and the time to start building healthy habits is in early childhood," she said.
To make it easier for parents to find health promoting child care, Dorf works with other organizations to develop stronger state licensing regulations (WACs) for child care homes and centers.
For example, this legislative sesssion, there was a bill which would have required the Washington Department of Early Learning "to consider the prevention of childhood obesity when adopting rules relating to physical activity, screen time, and nutritional standards for all early learning programs."
State Legislators did not adopt the bill (Bill 1784). However, in an encouraging step, the House Committee on Early Learning & Human Services scheduled a work session following the regular legislative session, giving health advocates the opportunity to inform the committee on the need for stronger regulations.
Dorf also is the project lead for the childcare component of the Community Transformation Grant (CTG) which is a joint project of Seattle Children's and Public Health and is funded by the Centers for Disease Control. After substantial budget cuts to various public health programs in 2009, the staff was reduced from 20 to seven. Dorf's position was cut to half-time, and she now works two half-time positions for the county.
Before the CTG, Dorf worked on the Farm to Childcare grant, in collaboration with the Puget Sound Food Network, which brought farm-fresh produce into childcare centers, allowing children to get excited about fruits and vegetables, and teaching food preparers how to cook with fresh produce.
Early data from this program seems to demonstrate that familiarizing children with fresh fruits and vegetables builds a strong foundation for healthy eating habits. Though the two-year grant has ended, 30 childcare facilities in the City of Seattle are still continuing the project.