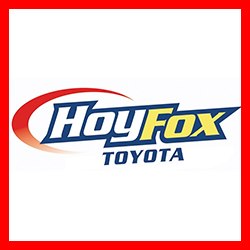 El Paso, TX (PRWEB) April 16, 2013
Toyota Motor Sales recently recognized two of Hoy Fox Toyota's sales staff for their performance excellence. Vladimir Mera has been recognized for his high volume sales and excellence in customer service with the "Toyota Motor Sales Gold Award". Joseph Gay has been recognized for passing Toyota truck sales certification standards and for his high volume of sales with the "Toyota Motor Sales Truck Master" award. Vladimir and Joseph are both valued members of the Hoy Fox Toyota sales team. They will be traveling to Las Vegas to attend an award ceremony at the Bellagio Hotel at the end of this month.
Each year Toyota Motor Sales recognizes both dealerships and their staff members with awards for their achievements in a variety of areas including top sales, specific vehicle sales and other areas of the dealership. These awards are given directly from Toyota Motors Sales corporate and are some of the greatest achievements Toyota employees can receive during their tenure with a Toyota dealership.
Hoy Fox Toyota, El Paso's leading volume Toyota dealer, has a commitment to provide the best products and best customer service. They offer a full line of new and used Toyota vehicles as well as financing, service and parts. Each department is staffed by professionals that understand Hoy Fox's commitment to providing an excellent experience for their customers. For more information about Hoy Fox Toyota as well as their products, services and staff, please visit their website at HoyFoxToyota.com.