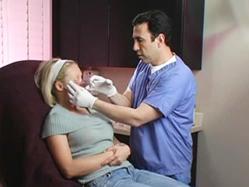 Los Angeles, California (PRWEB) April 16, 2013
According to an article published in the Spring 2013 issue of New You magazine, it is possible to uncover how fast people age by examining their telomeres, stabilizers that protect the end of all chromosomes. Telomeres become shorter with age, meaning that a person with long telomeres is likely to have a longer lifespan. Scientists are working to find a method to lengthen telomeres, which would slow the aging process, and augment aesthetic treatments such as dermal filler and Botox injections. (Go to goo.gl/qAUI4).
"The article refers to telomeres as the 'Holy Grail' but if these studies result in practical applications, then Fountain of Youth might be more appropriate," says Dr. Simon Ourian, Medical Director of Epione Beverly Hills. "Unfortunately it appears that this is a very preliminary report and that practical applications are likely to be very far off."
According to studies cited in the article, scientists have identified telomerase as an enzyme with the power to restore telomere length. A Harvard biologist was able to use this enzyme to reverse the aging process and increase lifespan in mice. Some believed that telomerase might cause cancer cells to develop, since they have high levels of the enzyme. However, upon further investigation, researchers found that telomerase effectively shrank tumors.
The article goes on to say that when telomeres become too short, they become weak. This has prompted scientists to attempt to develop a way to lengthen telomeres. Currently under investigation are natural plant extracts said to prevent telomeres from becoming shorter. People who take these extracts have reportedly experienced greater immunity, lower blood pressure, and increased bone density.
"Maintaining a good weight, avoiding stress, and quitting bad habits like smoking are all ways to stop telomeres from becoming shortened," says Dr. Ourian, "and I certainly have issue making those recommendations to my patients. I'm not ready, however, to suggest that they take any of the supplements referenced in the article until there's more scientific data available."
Dr. Ourian has been a pioneer in laser technology and non-invasive aesthetic procedures including Restylane, Juvéderm, Radiesse and Sculptra. These treatments are used for the correction or reversal of a variety of conditions such as acne, acne scars, skin discoloration, wrinkles, stretch marks, varicose veins, cellulite, and others. More information about telomeres and the aging process can be found on Epione's website.