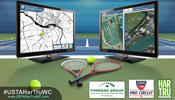 Richmond, Virginia (PRWEB) April 16, 2013
Timmons Group has teamed up with Har-Tru Sports (Har-Tru) to provide a new dimension of fan and spectator participation for the upcoming tennis tournaments within the Har-Tru USTA Pro Circuit Wildcard Challenge. This new dimension includes a web based mapping application coupled with social media integration, which provides real-time coverage to spectators both on and off site, all while connecting worldwide fans to the tournament experience.
The application will be viewable on large screen monitors throughout the tournament events, which will display fan's tweets and photos in real time. Fans tweeting from mobile devices at the tournaments will see their position in a fullscreen map. Each tweet and geo-tagged photo will trigger the application to zoom in to their location automatically and display tweet messages and photos.
The application will be available throughout the tournaments, and spectators are encouraged to use the hashtag #USTAHARTRUWC to link to Twitter and share their experience. Fans at the tournament and around the world can experience the tournaments by visiting http://www.USTAHarTruWC.com.
Timmons Group's director of enterprise solutions, Chris Gerecke states, "Timmons Group is excited to partner with Har-Tru. This will allow for the opportunity to blend our cutting edge geospatial, social media technology solution with real-time Twitter and photo updates surrounding the USTA Pro Circuit events."
Pat Hanssen, general manager of Har-Tru, commented, "we are thrilled to be partnering with Timmons yet again on providing cutting edge technology to transform the spectator and fan experience worldwide." Hanssen added, "our passion for innovation and creativity and bringing the tournaments closer to tennis fans, played a huge role in the introduction of the technology solution."
More about Har-Tru USTA Pro Circuit Wild Card Challenge events:
USTA Pro Circuit Women's Events:
$50,000 Dothan, Alabama (week of April 15th
$50,000 Charlottesville, Virginia (week of April 22nd)
$50,000 Indian Harbour Beach, Florida (week of April 29th)
USTA Pro Circuit Men's Events
$100,000 Sarasota, Florida (week of April 15th)
$50,000 Savannah, Georgia (week of April 22nd)
$50,000 Tallahassee, Florida (week of April 29th)
About Timmons Group
Timmons Group is a leading provider of geospatial information architecture and engineering services focusing on developing intuitive, enterprise geospatial web applications, highly-usable, cross-device mobile applications, and integrated, geospatially-enabled enterprise solutions. Timmons Group develops solutions across multiple platforms, including JavaScript, HTML5, and native mobile operating systems. Timmons Group maintains a strong business partner relationship with Esri, and has been a recipient of both the Esri Business Partner of the Year award and the Esri Foundation Partner of the Year award. For more information about Timmons Group's geospatial products and services, contact Lowell Ballard at lowell.ballard@timmons.com or visit http://www.timmonsgis.com.
More about Har-Tru Sports:
Har-Tru Sports is based in Charlottesville, Va., and is the leading provider of clay courts, lighting and court accessories in the tennis industry. With a focus on developing champions worldwide, Har-Tru Sports, one of the business divisions operated by Luck Companies, is best known for its Har-Tru brand of clay courts and uses its products, knowledge, advocacy and passion to further the development of tennis champions around the world. The company's global expansion now includes courts in Australia and China and a focus on innovative green technology to provide world-class products. For more information visit hartru.com.