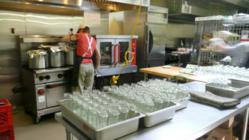 Lisa will help you move from 'Panic' to 'Profit'!
Evanston, IL (PRWEB) April 23, 2013
Looking forward to launching a food business this year by heading to farmers markets for the first time? Working on a plan to get food products into local stores but are intimidated by the possibility of getting that first big sale? If these or other challenges loom ahead, then this interactive session may be just the thing! Join the group as veteran chef / entrepreneur Lisa Gershensen provides a roadmap to efficient, cost-effective food production. Need 2000 units for tomorrow – no problem! No matter what the product – baked goods, granola, sauces, catered meals – Chef Lisa will provide the training that will enable food entrepreneurs to rapidly increase volume production with confidence.
What: Volume Production Workshop
When: Thursday, May 9, 2013, 6:30 – 8:00 pm
Where: Now We're Cookin'
1601 Payne Street
Evanston, IL 60201
Sign up: Brown Paper Tickets (Free neighborhood parking available)
Cost: $25