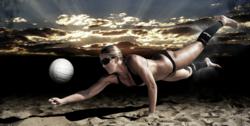 "Whitney Pavlik is a rising star on the women's beach volleyball circuit and we are excited to have her join our team of elite athletes," said Bryan Smeltzer, GM, Zamst US
Newport Beach, CA (PRWEB) April 17, 2013
ZAMST, a leader in high-performance sports protective equipment, announced today an endorsement deal with pro beach volleyball player Whitney Pavlik. Pavlik was the #1 ranked female player in US Professional Beach Volleyball for 2012, with her teammate Jenny Kropp.
"Whitney Pavlik is a rising star on the women's beach volleyball circuit and we are excited to have her join our team of elite athletes," said Bryan Smeltzer, GM, Zamst US "ZAMST sports bracing and supports products provides a superior level of protection and prevention, and aligning with players like Whitney who excel at their sport and strive to always be at the top of their game allows us to demonstrate the superiority of our products."
Pavlik, along with partner Jenny Kropp, achieved the #1 ranking in the US Professional Beach Volleyball Tour in 2012. They placed first in every Jose Cuervo Pro Beach Volleyball Series tour event in 2012, and no less than 3rd in all other events they participated in on a global level. The former first team, all-conference star out of the University of California, Irvine, will look to match her growing list of accolades as she continues to defend her ranking in 2013.
"Not only was I blown away by the quality of ZAMST's braces and support products, I was also very impressed with the family atmosphere and passion I experienced from everyone at the company," said Pavlik, the 2008 AVP Rookie of the Year. "ZAMST's designs allow its braces to truly move in harmony with my body, and they are so breathable that you hardly know you are wearing a brace. This combination of protection and comfort is most critical - both indoors and on the beach."
ZAMST is a leading brand of sports support and protective equipment, used by professionals worldwide for over 20 years. ZAMST offers a full line of premium injury prevention and protection sports bracing and supports products. ZAMST is a division of the NIPPON SIGMAX Co., Ltd (Tokyo, JAPAN) with privately-held, wholly owned subsidiary corporations, SIGMAX AMERICA (Newport Beach, CALIFORNIA), SIGMAX EUROPE (Annecy, FRANCE), and SIGMAX CHINA (Shanghai, PRC). For more information, call toll free 877-ZAMST-US (877-926-7887) or visit http://www.zamst.us