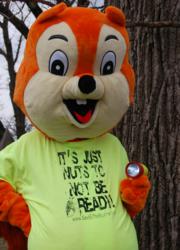 The biggest firefighter show on the planet seems like the perfect place to debut Saxby. Like Sparky the fire dog, we want to educate kids and their families to be properly educated and prepared for whatever lies ahead in our ever-changing world
Indianapolis, IN (PRWEB) April 24, 2013
Chasing4Life, a disaster preparedness educational organization, will be debuting Saxby the Readiness Squirrel in the Foxfury Lighting Solutions booth at FDIC 2013 in Indianapolis, IN. Saxby is a character that will teach kids around the world about disaster preparedness.
Saxby is a squirrel, no different than any other (except for his enormous size) in that he understands preparedness. Squirrels, of course, are best known for their preparedness efforts so what better character to teach our younger generation about readiness?
Saxby is named for Stephen Saxby. In the mid-nineteenth century, the new science of weather forecasting was fraught with controversy. In the United States, bitter disputes about the nature of storms had raged for decades since Benjamin Franklin and progress in the field was halted by the Civil War. In the middle of the 1800's one voice rose above the noise and that voice belonged to Stephen Saxby, a British Naval Instructor who became one of the forefathers of today's weather forecasting methods. Stephen Saxby believed that with education, we would need less response… the motto of Chasing4Life.
With the assistance of partners like FoxFury and Emergency Supply Solutions, Saxby The Squirrel has already been booked for appearances and children's events across the country into Spring of 2014. Plans are presently underway to complete the new Saxby website by May 4, 2013 and to add online educational games for children to the site shortly after.
Saxby's programs focus on families with children encouraging them to prepare for disasters, create home disasters kits and observe weather safety rules.
"The biggest firefighter show on the planet seems like the perfect place to debut Saxby. Like Sparky the fire dog, we want to educate kids and their families to be properly educated and prepared for whatever lies ahead in our ever-changing world," said Eddy Weiss, founder of Chasing4Life.
Look for Saxby on the FDIC 2013 show floor. Take your picture with him and tweet it to @chasing4life with the hashtag #saxbynomad to enter to win a FoxFury Nomad Prime Area-Spot light on Friday, April 26th. Saxby will be in the FoxFury booth #5457.
About FoxFury
FoxFury Lighting Solutions creates unique and cutting edge lighting products that reflect the needs of our customers, who demand quality and dependability. FoxFury is best known for its niche LED headlamps designed for specific markets including Fire, Industrial, Hazardous Area, Law Enforcement, Forensics and Recreational. FoxFury was formed in 2003 and operates out of Vista, CA USA. You can follow FoxFury on Twitter @foxfuryLED
About Chasing4Life
Chasing4Life is an educational organization focused on educational tours, disaster preparedness, emergency management, disaster response, and disaster research. Its team's members have responded to disasters around the world and it is our hope that they will continue to do so. You can follow Chasing4Life on Twitter @chasing4life.
About FDIC:
FDIC 2013 in Indianapolis attracts firefighters from around the world to train, network and learn from the industry's most elite instructors. FDIC features fire house H.O.T. (Hands-On Training) courses, classroom sessions, and an expo showcasing thousands of firefighting equipment and products. You can follow FDIC on Twitter @fdic.