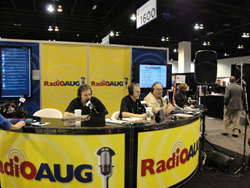 OAUG Forum offered more than 500 user-driven educational sessions...
Atlanta, GA (PRWEB) April 18, 2013
Co-hosts Lee Kantor and Stone Payton of RadiOAUG, Powered by BusinessRadioX®, broadcast live in Denver, Colorado for the OAUG COLLABORATE 13 Conference, interviewing over 30 speakers, participants and vendors during this multi-day event held April 7-11, 2013.
Illustrating its theme, "Elevate Your Potential," the COLLABORATE 13 – OAUG Forum offered more than 500 user-driven educational sessions focused on practical training to help Oracle Applications customers derive the most value from their Oracle product investments. The variety of content within 23 educational tracks presented attendees with multiple opportunities to find the most relevant information on topics including application strategy, big data, business intelligence/data warehousing/enterprise performance management (EPM), cloud computing, customer relationship management (CRM), human capital management (HCM), middleware, supply chain and more.
Kantor and Payton sat down with top leaders from companies such as Oracle, HP, CSC, EiS Technologies, IBM, and many more to discuss the latest technological trends. Red River Solutions and HP used their live broadcast time with Kantor and Payton to announce a new strategic partnership.
In between interviews, conference attendees were also entertained by Kantor and Payton as they played host to Name That Tune and shared the mic with a John Denver tribute performer.
To listen to these insightful interviews, please visit Trade Show Radio.
About RadiOAUG:
OAUG Radio features live interviews with presenters, exhibitors and solution providers sharing tips and success stories on the use of Oracle products.
About BusinessRadioX®:
BusinessRadioX® provides a turnkey solution for business owners who want to leverage the power of internet radio to meet their best prospects, establish credibility for their organization and heighten the placement of their brand in search engines rankings. With a professional venue and a proven formula, BusinessRadioX® helps hosts podcast their shows and create a regular stream of dynamic content to share with their prospects and feed the search engines every week. Programs are recorded and streamed live to the internet from our studios in the greater Atlanta area. For more information or to hear a live show, visit: http://www.businessradiox.com.