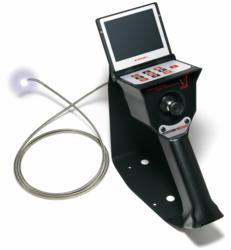 The LCD display is super clear and the joystick articulation control makes it easy to use.
- Jerome S., Support Facility Manager
Traverse City, MI (PRWEB) April 18, 2013
The joystick controlled 4-way articulation is truly a groundbreaking feature developed by RF System Lab. With real time feedback, the tip of the borescope simply makes the movement that is needed. With no lag or delay in the movements of the tip, inspections can be completed with ease and without complication. Many similar products to the VJ Advance feature some form of articulation, but very few can stand up to the simplicity of the VJ Advance. The borescope itself only weighs 23oz and is easily operated in one-hand with its ergonomic pistol-grip design. With one-touch audio, video, and still-shot capability, end users of the VJ-Advance will find that there really is no learning curve when using a video borescope from RF System Lab.
The VJ Advance is an excellent piece of diagnostic equipment for many types of inspections. Popular applications, such as the inspection of a small turbine engine like the Pratt & Whitney PT-6, the VJ Advance allows for an accurate inspection of the small blades and can easily zero-in on debris and cracks. With the real-time joystick control it is simple to make small movements and not overcorrect the articulation.
Other video borescopes operate like an "Etch-a-Sketch" and dialing in on a small target can be extremely challenging. Many of the VJ Advance competitors have articulating tips, which operate via servo-motors causing delays in the necessary movements, therefore resulting in difficult and time consuming inspections.
The design of the VJ Advance allows the user to do conduct a "one man" inspection. While other borescopes have an outboard monitor this makes it impossible for a one man inspection.
Due to ground breaking design, many other borescope manufacturers have started releasing their own "joystick" units but don't be fooled, not all joystick controlled borescopes are built the same. That's why RF System Lab offers a No Cost, No Obligation Demo Program. With this program interested users will be able to see why the VJ Advance is the right tool for their various inspection needs.