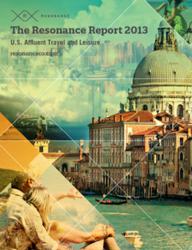 Italy is the #1 overseas vacation destination for affluent households.
Miami, FL (PRWEB) April 18, 2013
The Resonance Report, a national study by leading global tourism consulting firm Resonance Consultancy, sheds new light on the travel and leisure habits of affluent American households.
The study, conducted in conjunction with the Luxury Institute in New York, surveyed more than 1,200 individuals from households with incomes of $150,000 and higher to measure their travel and leisure preferences and aspirations. These affluent households account for almost a third of all domestic spending on lodging and air travel, according to recent estimates in the U.S. Bureau of Labor Statistics' Consumer Expenditures Survey.
"The desirability of exotic vacations for the affluent remains virtually unchanged since 2008," says Resonance Consultancy President, Chris Fair. "What's changed is their growing interest in traveling with more family members and friends and their rising interest in once-in-lifetime experiences and classic journeys such as train travel, safaris and cruises that explore non-traditional destinations."
Key Findings of the Resonance Report include:
•Affluent American households take an average of three vacations a year averaging six days in length.
•Ritz Carlton is the #1 hotel brand of choice for high net worth households ($1MM+) on vacation.
•Marriott is the most frequented hotel brand of affluent households.
•New York City is the most popular U.S. vacation destination, followed by Las Vegas and San Francisco.
•The Bahamas is the most visited island destination, followed by Puerto Rico and Jamaica while Turks & Caicos is the #1 destination affluent households aspire to visit.
•Italy is the #1 overseas vacation destination for affluent households, followed by the U.K. and France.
•Wine country tours and luxury cruises are the most desired type of vacation experiences.
•Affluent owners of vacation properties use them an average of 5 weeks per year.
•Affluent consumers are willing to spend an average of $650,000 on their next vacation property.
"This influential cohort uses its leisure time to explore what's meaningful for them and for those closest to them," says Milton Pedraza, CEO of the Luxury Institute. "The affluent consumer is driven by extraordinary experiences, and this study shows clearly the importance of experience for this demanding demographic."
To download a copy of the Resonance Report 2013 visit resonancereport.com.
About Resonance Consultancy (http://www.resonanceco.com)
Resonance Consultancy provides brand development, strategic marketing and planning services to leading travel & tourism companies and organizations around the world. The principals of Resonance have completed more than 100 travel & tourism studies, reports and plans in 65 different countries.
About Luxury Institute (http://www.LuxuryInstitute.com)
The Luxury Institute is the objective and independent global voice of the high net worth consumer. The Institute conducts extensive and actionable research with wealthy consumers about their behaviors and attitudes on customer experience best practices. In addition, we work closely with top-tier luxury brands to successfully transform their organizational cultures into more profitable customer-centric enterprises.