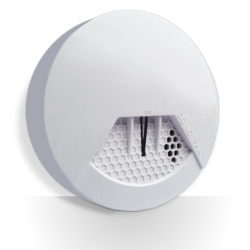 An effective smoke detector can mean the difference between a close call and a tragedy.
Cambridge, MA (PRWEB) April 17, 2013
Announcing the latest addition to SimpliSafe's family of state-of-the-art, affordable sensors: the SimpliSafe Smoke Detector. Savvy homeowners everywhere will rest even easier knowing that their homes are safe not only from burglars and home intrusion, but from the very real dangers of smoke and fire. There are over a million fires annually in the United States, causing upwards of 20,000 deaths and injuries and over $11.7 billion in property damage, according to surveys by the National Fire Protection Association. An effective smoke detector can mean the difference between a close call and a tragedy — homes that contain working smoke detectors suffer 90% less property loss and 75% fewer fatalities than homes that don't.
SimpliSafe systems combine pioneering components with an unobtrusive, sleek design. SimpliSafe's smoke detectors use photoelectric technology, which is particularly suited to detecting fires in the early, smoldering stages — before they do large-scale damage, block exits, and prevent escape. When the sensor detects a fire's presence, it blasts its own internal siren as well as triggering the full security system alarm, so residents are instantly aware and can get out of danger. It also alerts the 24/7 monitoring center, which dispatches emergency responders. Like all SimpliSafe sensors, the smoke detector is wireless and easy to self-install. Fire alarm monitoring is included in SimpliSafe's $14.99 no-contract monitoring plan.
While most wireless monitored smoke detectors run anywhere from $65 to $120, SimpliSafe's are affordably priced at $29.99, which makes it possible for customers to purchase as many as they need and get complete coverage for their homes. Plus, the purchasing process is easy, as the smoke detector is sold directly to consumers online. For more details and a lineup of all available sensors, visit http://SimpliSafe.com/home-security-shop.
About SimpliSafe Home Security
SimpliSafe is a simple, secure and complete do-it-yourself security system. Using entirely wireless, cellular components, the alarm system can be easily customized and installed by a homeowner or renter. SimpliSafe Home Security also provides nationwide alarm monitoring services for their wireless security systems.