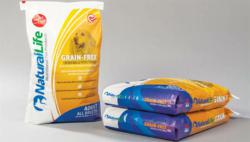 "We hope by introducing this new bag design to the public that we are lowering our carbon footprint," says Kaleb Terlip, Chief Operating Office
Pittsburg, Kansas (PRWEB) April 18, 2013
Food and Beverage Packaging Magazine awards Natural Life Pet Products' new bag design as one of the top package designs of 2013. The award-winning bags incorporate new technology, design and user-friendly functionality. The woven poly bags feature patented pinch close bottom and top slide zipper from cei (Coating Excellence International) who was also recently recognized for Sustainability and Environmental Achievement in Packaging.
"These are the first – and only – commercial woven poly bags using both a pinch bottom and a slider zipper. cei's woven poly bags are puncture and tear resistant while providing barrier protection for the product inside. The bags are lightweight, leading to reduced shipping costs, landfill waste and storage space." Liz Cuneo, Editor-in-Chief Food and Beverage Packaging Magazine April 2013.
For consumers, the new bags allow for ease of opening and closing the package retaining product freshness and reducing the impact on the environment. The puncture resistant bags are able to offer maximum flexibility and reliability.
Historically, woven poly bags were limited to commodity goods because of the lack of high quality graphic application. Today woven poly bags offer the best of both durability and appeal and they do not get the shelf worn look of paper bags with a clay-coated surface. And being manufactured in the United States allows for reduced lead times, lower shipping costs, and greater quality assurance.
"At Natural Life we are committed to continually adapting and bringing new and innovative ideas to our customers. We hope by introducing this new bag design to the public that we are lowering our carbon footprint," says Kaleb Terlip, Chief Operating Officer of Natural Life Pet Products.
For more information on Natural Life Pet Products including the new Grain-Free line of products visit http://www.nlpp.com.
The full article from Food and Beverage Packaging Magazine is available here.