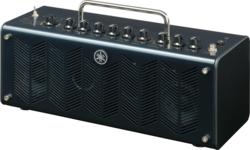 "These three models expand on what has proven to be an exciting series. Different players have different styles, and now, we're able to offer each of them a useful and fun product..." said Dennis Webster, Yamaha Guitars.
BUENA PARK, Calif. (PRWEB) April 17, 2013
At the 2013 Musikmesse trade show, Yamaha received a prestigious Musikmesse International Press Award for the new THR Series amplifiers in the Guitar Amp Combo category. For this award, more than 100 magazines from all over the world voted for the best musical instruments and audio equipment of 2012/2013 in more than 40 categories.
The THR lineup, the first hi-fi stereo amps to offer realistic multi-effects and classic amp modeling, are designed to serve as a guitarist's third amp, after their stage setup and practice rig. Winners of a design award, the THR amps look as good as they sound.
The THR10X (for Extreme), delivers commanding high-gain distortion and the response of a cranked, high-output stack – even at low volumes. Ideal for hard rock, metal, alternative, punk and other heavier music styles, the THR10X features five different channels from three amps. A sturdy, olive green shell gives the unit a sense of presence.
Players who enjoy jazz, blues and country styles will appreciate the sound and feel of the
THR10C (for Classic). Providing the unmistakable response of a boutique tube combo and five different amp modes, the THR10C enhances each player's picking dynamics and playing style. A dark metallic navy shell enhances the vintage look.
The THR5A (for acoustic) offers a new way to experience acoustic-electric guitars (including Yamaha's Silent Guitar™ models) by providing simulations of classic tube condenser and dynamic mics, combined with studio-grade effects, to create recording studio tone direct from the guitar and will appeal to the singer/songwriter, folk, fingerstyle and acoustic blues player. The gold body color borrows the look of the legendary Yamaha AG Stomp.
"When we originally launched the THR line, we knew the concept was a game-changer," said Dennis Webster, marketing manager, Yamaha Guitars. "These three models expand on what has proven to be an exciting series. Different players have different styles, and now, we're able to offer each of them a useful and fun product that not only sounds great, but really embodies the 'one box' concept at a tremendous value — not to mention they look good in the office, living room or studio."
Like other members of the THR family, the THR10 and the THR5, the new models are geared toward at-home practice and recording, combining the power of Yamaha's proprietary Virtual Circuitry Modeling (VCM) technology with outstanding playback capabilities in a low-profile, retro-style design that fits on a desk or table. New guitar amp sounds and modeling effects are now available in three distinct styles that appeal to a wide range of players: hobbyists, professionals, educators, home recording enthusiasts and guitar aficionados. Each model come with the Cubase AI6 Digital Audio Workstation for professional recording and the THR Editor, available as a free download, offering the ability to customize any amp and effect parameter. They also offer hi-fi stereo playback that blends music audio with the guitar sounds.
Fully portable, the battery-powered THR amps also include an input for an mp3 player, a USB direct input, near-zero latency computer recording and hi-fi stereo playback that blends with the guitar output. When connected to a computer, the THR also functions as a monitor and thanks to Yamaha's Extended Stereo Enhancement feature, it sounds great when playing back audio from a plugged-in iPhone, iPad, CD player or other external device, a feature unique to the THR. In addition, the free THR Session app lets guitarists learn songs faster by slowing down selections without losing audio quality or changing pitch.
"This is exactly the kind of forward-looking amp that the guitar market demands," said Armando Vega, product manager, Yamaha Guitars. "In addition to being a useful and fun product that does so many vital tasks very well, it looks great in the office, living room or music studio and with the expansion of the line, Yamaha has all the bases covered."
For more information, write Yamaha Corporation of America, Yamaha Guitars, P.O. Box 6600, Buena Park, CA 90622; telephone (714) 522-9011; e-mail infostation(at)yamaha(dot)com; visit http://4wrd.it/yamahaguitars.
###
About Yamaha
Yamaha Corporation of America (YCA) is one of the largest subsidiaries of Yamaha Corporation, Japan and offers a full line of award-winning musical instruments, sound reinforcement and home entertainment products to the U.S. market. Products include: Yamaha acoustic, digital and hybrid pianos, portable keyboards, guitars, acoustic and electronic drums, band and orchestral instruments, marching percussion products, synthesizers, professional digital and analog audio equipment, Steinberg recording products and Nexo commercial audio products, as well as AV receivers, amplifiers, Blu-ray/CD players, iPod docking systems, home-theater-in-a-box systems, earphones, headphones, sound bars, and its exclusive line of Digital Sound Projectors. YCA markets innovative, finely crafted technology and entertainment products and musical instruments targeted to the hobbyist, education, worship, professional music, installation and consumer markets.