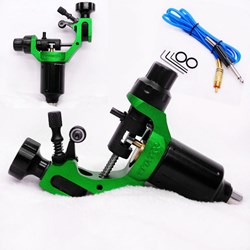 (PRWEB) April 17, 2013
Recently, TattoosFactoryOutlet.com has released 10 new items to its rotary tattoo machine collection, including blue dragonfly professional rotary tattoo machine gun, red dragonfly body art professional rotary tattoo machine, and more.
TattoosFactoryOutlet.com is a professional tattoo machine supplier worldwide. The rapidly evolving customer-oriented products and services have helped TattoosFactoryOutlet.com become one of the world's leading suppliers of tattoo machine products. They are offering many kinds of tattoo kits, tattoo machines, tattoo inks, tattoo grips, tattoo needles, tattoo power supplies, etc. The addition of the new rotary tattoo machines will definitely add flowers to the brocade.
"We are excited to introduce this new product to our customers. Now, whether you plan to buy professional tattoo machines or cheap tattoo kits, we have something in stock for you," says, a spokesman for the company. "Customers safety and health are always the most important things for our company. Please enjoy browsing through the collection and selecting the rotary tattoo machines at discounted prices."
In addition, TattoosFactoryOutlet.com will release new items to its coil tattoo machine collection next Monday. Those, who want to buy rotary tattoo machines and coil tattoo machines, should visit TattoosFactoryOutlet.com's online store. The frequently upgraded website of TattoosFactoryOutlet.com has made it faster and more convenient to purchase their tattoo products online.
About TattoosFactoryOutlet.com
Founded in 2008, TattoosFactoryOutlet.com is a well-known tattoo machine manufacturer and wholesaler, offering hundreds of premium quality tattoo supplies. With flexible marketing strategy, trendy styles, and affordable prices, the company has become a leading brand in the tattoo machine industry.
For more details, please visit http://www.tattoosfactoryoutlet.com