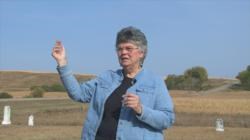 One of the popular subjects featured on Lakes Country Living is local history.
Brandon, MI (PRWEB) April 17, 2013
Since it first aired in 2010, one of the popular subjects featured on Lakes Country Living is local history. Two new story segments on the half-hour television show reveal very different approaches historical societies use to interpret history: guided tours of actual historic sites, and staged settings filled with period props.
In Montevideo, Minnesota, the Chippewa County Historical Society has created "Historic Chippewa Village," an imaginary community composed of replica buildings – many were fabricated from old school houses. Some of the structures were so believable that artist Terry Redlin, famed master of nostalgic Americana, used them for reference material in some of his paintings. Executive Director June Lynne proudly shares with viewers some of the highlights visitors may encounter. The village buildings are filled with donated period objects that illustrate in vivid detail how people lived at various periods. Some of the objects are quite unique, such as an ornate horse-drawn hearse, or a cannonball vault; each displayed in the appropriate setting to capture the essence of the day. Visitors may walk around the village square on a boardwalk connecting the buildings, the park-like setting made complete with a bandstand. The visitor experience is very hands-on.
Further north in rural Grant County, with a total population about the size of the city of Montevideo, the Grant County Historical Society has developed a different strategy. When two significant sites located along the Pomme de Terre River were used as settings in a series of novels by award-winning author Candace Simar, the Board provided bus tours to specific historic sites, with oral interpretation. Local historian Merilyn Mau takes Lakes Country Living viewers on a guided tour, recounting the story of Minnesota's Dakota Conflict, the ox cart trail, railroads and pioneers' vanishing dreams. At Pomme de Terre Village, the television audience can see the site as it is today contrasted with historic photos from the Grant County Museum.
Lakes Country Living is a half-hour made-for-cable video magazine featuring stories of outstate Minnesota. Hosted by nationally acclaimed landscape painter Stephen Henning, the show's topics usually include the arts, agriculture, Main Street entrepreneurs, local history, natural resources and outdoor recreation. Particular attention is given to conveying local flavor. Now in its third season, Lakes Country Living airs on telecom cable networks across the Midwest. More information is available online at http://www.lakescountry.tv.