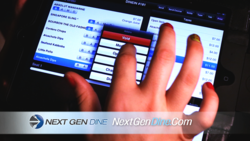 Las Vegas, NV (PRWEB) April 16, 2013
Happy hour pricing is a valuable feature to any restaurant and bar owner. In Next Gen Dine, happy hour pricing can be set up on a specific schedule for specific menu items quickly and easily. The SaaS architecture of Next Gen Dine propagates price changes instantly to all terminals without the need to reload settings or restart the application. Now, with the addition of happy hour pricing, Next Gen Dine combines the power of mobility with an always-growing wealth of amazing point of sale features.
The happy hour pricing setup is available via the Next Gen Dine cloud administration interface in any web browser. This gives owners and managers the ability to set the happy hour schedule on a day-to-day basis from any web browser. Because it is so easy to manage, happy hour scheduling can be changed on-the-fly even while the establishment is open with orders in-progress. Menu items can be assigned to the happy hour schedule individually, so only certain portions of the menu are affected during the price schedule change. Any changes to pricing or scheduling are instantly updated on all terminals and will not affect previous orders in the system. Happy hour sales can also be reported separately on sales and revenue reports.
Because of the unique nature of service-based software, any changes to happy hour pricing propagate the entire point of sale system instantly. For example, a beer may normally cost three dollars, but during happy hour may cost two dollars. A server could be mid-order, and without refreshing or reloading anything on their terminal, the second happy hour pricing goes into effect; beers will now ring up at the happy hour price. Another example would be a manager extending the happy hour time by one hour. Again, servers could be mid-order, and possibly not even aware of the managerial change, any item run in the system will immediately be affected by the new schedule. Each terminal is constantly accessing the cloud; therefore, any changes to system-wide settings will instantly be reflected on the terminals. There is no need to stop restaurant operations or schedule a special time to make administrative changes; changes simply are available on the fly.
Next Gen Dine is a cloud-based mobile POS application available on iPad and coming soon to the Android platform. Credit card payments can be taken by servers right at the table making customers even more comfortable because credit cards never leave the table. Next Gen Dine gives restaurant owners a powerful point of sale platform with a minimal footprint and continues to add valuable features like happy hour pricing.