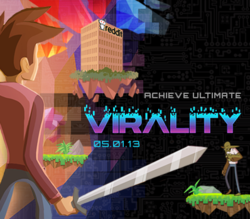 Tampa, FL (PRWEB) April 17, 2013
CopyPress, a software company based in Tampa, FL specializing in content marketing automation tools and native advertising, has released the trailer for its first video game, Virality.
Prospective players can view the trailer and sign-up for updates on the game's official release at http://virality.copypress.com/
Virality is a video game spawned from the collective mind and talent of Dan Jones, Josh Kunzler, and Derek Fast. I am extremely proud of what they have put together and can't wait for everyone to experience it.
Virality is going to be a multi-level game with levels released over time. It follows the story of Klix, as he battles through a world of Internet trolls, helped along by some viral stars, and challenged by others, to become the next viral superstar.
"Even our current customers are surprised by our current digital media capabilities," stated CopyPress CEO, Dave Snyder, "I gave the team a simple direction, 'create something that showcases our capabilities so that everyone will know what we can do'; they did that and then some. They created such an amazing product that it makes my initial vision look childish."
About CopyPress:
CopyPress is a content marketing automation company based out of Tampa, FL with a focus on tools that make content production, promotion, and conversion more successful. With a marketplace of thousands of writers, designers, publishers and creatives, they handle the Content Life Cycle for clients such as Macy's, eHarmony, and eBay.