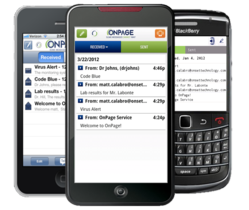 "OnPage gives the organization the tools to implement and enforce effective electronic record keeping, supervision and data protection policies for compliance with FINRA. "
Judit Sharon, CEO
Waltham, MA (PRWEB) April 17, 2013
Onset Technology, leader in mobile secure priority messaging, creator of OnPage, announced today that a primary stock exchange company has chosen OnPage for their secure archived communication needs. This leading stock exchange company will use the OnPage application to replace the non-compliant SMS and Pin-to-Pin communication. OnPage combines the benefits of pagers, SMS and email into one OnPage, easy to use secure mobile messaging application.
The Stock Exchange Company operates the third or fourth largest equities exchange in the world, with a trading volume of 1 billion to 2 billion shares per day, capturing 10-12% of total U.S. equity trading volume.
The exchange will enjoy many benefits of using the OnPage application on their mobile device, including a full time-stamped audit trail and message archiving. OnPage gives the organization the tools to implement and enforce effective electronic record keeping, supervision and data protection policies for compliance with FINRA record retention rules and to fulfill SEC obligations for electronic message broker dealer compliance.
Additional benefit includes secure encrypted messaging backed by a private cloud infrastructure with fully redundant hardware, software, and power supply, as well as utilization of data channels for communication rather than congested voice channels to ensure messages get through during times of peak congestion.
ONPAGE™ is a cloud based, enterprise-grade, encrypted priority messaging service for smartphones, where messages arrive into a dedicated inbox on the device with a prominent alert until acknowledged, and a time stamped audit trail attached to each message. The OnPage service can be augmented with an intuitive Enterprise Web-based Management Console that enables enterprises to initiate and manage their priority communications from a centralized location and follow the status of each message. It also enables enterprises to assign users into groups, as well as create escalation rules for efficient messaging. OnPage eliminates the need to carry multiple devices in order to separate the critical messages from the clutter.
OnPage's dedicated inbox & outbox allow important messages to rise above the clutter of the routine emails, SMS, and phone calls and notify the sender that the message was received and read – All completely compliant with regulations such as FINRA/HIPAA/HITECH.
ABOUT ONSET TECHNOLOGY
Onset Technology has pioneered software development enhancing the functionality of Enterprise Mobility systems. Since 1997 Onset technology is the leading provider of advanced secure high-priority messaging systems for Smartphones with our latest product release, ONPAGE™. OnPage mobile app turns iOS, BlackBerry, and Android smartphones into secure digital pagers, supported by an enterprise-grade messaging and paging platform. Onset Technology's OnPage is now used by over 1,000 organizations, including those in healthcare, emergency services, information technology, financial institutions, the legal profession, and government agencies. Our legacy solution METAmessage®is an enterprise server-based application that include Advance paging, High priority Messaging and Emergency Communications for BlackBerry smartphone.
For more information about OnPage, visit http://onpage.com/ . For other products by Onset Technology visit http://onsettechnology.com/