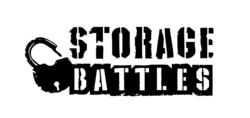 Our online self-storage auction platform has been embraced and accepted by the industry as a whole.
Scottsdale, AZ (PRWEB) April 17, 2013
StorageBattles.com, the self-storage industry's largest web portal for online auctions, is pleased to announce that it has released version 2 of its self-storage auction website. This upgrade will provide enhanced services to meet the company's increased membership demand, which currently includes more than 3,500 storage facilities in the United States.
StorageBattles.com utilizes an eBay-style format, whereby self-storage operators can list units up for auction online. Listings on the website include photos and videos of the contents in the unit as well as comprehensive descriptions of the items. This format eliminates the need for on-site auctions and allows managers to spend their time more efficiently handling the daily operations of the site. It also eliminates the potential liability that can occur with crowds at the facility, such as slip and fall injuries or even the enticement of a possible robbery given all of the cash on hand.
Potential buyers who establish a free account with StorageBattles.com can bid on the units up for auction from any location via their computer, tablet, or smartphone. In addition, the online system gives bidders the opportunity to view units outside of their immediate area without having to drive from site to site on the day of the auction. In the event a buyer has the winning bid on a unit, they have the flexibility of picking up the items in the days following the lien sale.
"Our online self-storage auction platform has been embraced and accepted by the industry as a whole," says StorageBattles.com President and CEO James Grant, who explains that operators have come to realize that the antiquated way of on-site auctions are a thing of the past. "As we continue to grow and stay in the forefront of our industry, our members have given us some wonderful suggestions and recommendations for improving our auctions. We have taken these ideas and implemented them into our second version of StorageBattles.com."
According to Grant, the company's online auctions allow facility operators to maximize their loss recovery from the industry average of 50 percent to more than 117 percent when using the website—all without the inconvenience of holding live auctions on site. "This, combined with an extensive customer service and legal support team, gives self-storage operators the peace of mind that comes with knowing StorageBattles.com will guide them through the online auction process with safety and ease," says Grant.
In addition, as StorageBattles.com continues to be the clear leader in providing online auction services across the U.S. and Canada, participating self-storage owners and operators will benefit from the extensive and continually growing database of buyers that has been compiled by the company over the last two years. "It's important to remember that this extensive database is one of the major factors associated with high winning bids and reduced loss recovery," says Grant.
For information about the company and its online auction process, please visit http://www.storagebattles.com.
About StorageBattles.com
StorageBattles.com is a web portal that allows storage facilities to post their auctions online, thereby eliminating live auctions entirely. Created by Self Storage Association members who have been in the storage business for more than 30 years, the company was established to create a more efficient way of holding lien sales and to alleviate the frustration that came from holding live auctions on site at self-storage facilities. StorageBattles.com now attracts buyers online while maintaining seller confidence and ease of use.