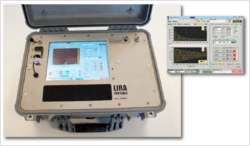 According to James Raines, Manager, Equipment Qualification (EQ) and Cable Health and Aging Management Program (CHAMP®) at FAI, "LIRA has become one of FAI's key tools to support our CHAMP® Center of Excellence in North America."
Burr Ridge, IL (PRWEB) April 17, 2013
Electrical cables provide many functions, including connectivity, instrumentation power, transmission and distribution of electricity. The electrical conductor typically made of copper or aluminum is the medium in which the electrons (electricity) are transferred for the intended cable function. Surrounding the conductor is the insulation, a key component that contains the electrons and separates the conductor from the outside world. Many cable designs have additional components, such as exterior screens and jackets.
During normal operations, cables are the conduit for the transfer of electrons. The following are common sources of damage that can quickly accelerate cable degradation:

Mechanical fatigue, insulation cuts and dings caused by human or other interactions, such as poor installation of cable splices or splice degradation
Chemical reactions, such as interactions with some chemicals found in soil for buried cable installations
Biological interactions, such as damage caused by rodents that gnaw on cables
Adverse local environments (ALEs), such as high temperatures, water/humidity/steam and (if in a nuclear environment) irradiation.
To reduce downtime and better maintain cable assets, many commercial nuclear plants include condition monitoring (CM) of their cables as a key element of the site cable management program to support license renewal and long-term operation.
The LIRA CM testing method offers several significant benefits over other existing CM evaluation methods. The LIRA CM method:

Locates specific local degradation/faults and assesses overall cable condition
Tests all cable sizes, from low- and medium-voltage cables to the high-voltage cables used in the transmission and distribution industries
Accommodates both shielded and unshielded cables
Uses a very low-voltage signal (5 DC or less) for all evaluations – so the test is a damage-free methodology
Does not require decoupling of cables/terminations in the far end
Uses or Has a short test time – less than five minutes (evaluation can be done elsewhere later)
Tests inaccessible/buried/underground cables
Tests cables up to hundreds of miles long
Based on transmission line theory, LIRA calculates and analyzes the changes in the cable's electrical properties (e.g., line impedance) as a function of the applied signal for a wide frequency band. LIRA applies a 5 VDC (peak to peak) radio frequency (RF) sweep to the cable between any two metallic cores (e.g., conductor and ground, conductor and conductor) and detects changes in the electrical properties of the cable, which it displays as a function of the cable length. Based on the changes in the cable's electrical properties, LIRA assesses both the cable's global health and its local degradations/defects. LIRA has a proven history of successfully performing both global and local cable assessments.
According to James Raines, manager, Equipment Qualification (EQ) and Cable Health and Aging Management Program (CHAMP®) at FAI, "The LIRA technology is very exciting and state of the art because LIRA® applies a low-voltage, non-damaging RF signal to the cable and detects changes in the cable's electrical parameters to detect and locate cable joints/splices and areas of damage due to extensive heating, irradiation, water intrusion, over-bending, scratches, mechanical impacts, fatigue, etc." LIRA can be the cornerstone of a CM program by:

Determining locations of failed/failing or degraded cable
Assessing the global condition of the cable
Establishing baseline assessments of the cable's condition
Performing periodic assessments of the cable to compare to the baseline evaluations
Trending and evaluating the cable's performance
Forecasting and alerting of potential cable failure times, and
Pinpointing locations of cable joints and splices
The LIRA Portable cable testing system is a battery (or AC) powered instrument designed for rugged operation, weighing less than 22 lbs (10kg). Additional LIRA features include: a database to store all information, automatic report generation, email results, simulation capability to perform "what if" evaluations, trending analysis and remote control/unattended operation.
"FAI is very pleased to be working with Wirescan," Raines said. "LIRA has become one of FAI's key tools to support our CHAMP® Center of Excellence in North America. Our new center of excellence offers the following services:

LIRA Testing Services
LIRA Training Services
LIRA Quality Assurance (QA) Certified Calibration Services
Industry-Standard LIRA Test Procedures
Infrared Thermography
Cable Testing Laboratory
Cable Research Laboratory
On-site Cable Walkdowns
Cable Equipment Qualification (EQ)."
Wirescan AS (Wirescan) is a limited liability company located in Fredrikstad, Norway and was incorporated October 2005 as a spin-off from the Institute for Energy Technology, Halden, Norway (IFE). IFE had identified the need for better cable diagnostic tools in nuclear power plants and they developed the LIRA technology. The broad applicability of the LIRA technology was evident and Wirescan was incorporated to commercialize and adapt LIRA to the oil and gas, transmission and distribution, and wind energy industries. The company has positioned itself as a leading solution provider in the growing market for cable condition monitoring and assessment, cable quality control and assurance, and cable fault location.
Founded in 1980 by Hans Fauske (D.Sc.), Michael Grolmes (PhD) and Dr. Robert Henry (PhD), FAI became a wholly owned subsidiary of Westinghouse Electric Co. in 1986. FAI assumed early leadership roles in the acclaimed DIERS program for AIChE and the IDCOR program for the nuclear power industry. These activities led to state-of-the-art methodology and laboratory tools for characterizing chemical systems and computer models for analyzing severe accidents in commercial nuclear power plants used worldwide. Recognized worldwide for phenomenological modeling related to the prevention and accommodation of chemical and nuclear power accidents, FAI also provides advanced training and research in physics, chemical engineering, mechanical engineering, nuclear engineering, computer science and other fields. FAI has several fully staffed laboratories supporting: EQ, CHAMP, full-scale thermal/hydraulics experiments, and basic physical sciences. FAI has a 10CFR50 Appendix B Quality Assurance (QA) Program and is ISO- 17025/IEC, ISO-9001 and TickIT certified. In addition, FAI is an Authorized Provider of IACET CEUs.
FAI is also recognized for conducting comprehensive plant evaluations. FAI's Nuclear Systems Group helps its customers enhance the availability and reliability of their operating plants while maintaining regulatory compliance, extending plant life and reducing operation and maintenance costs. With regard to industrial and chemical process safety, FAI is a leader in the dust explosivity/combustibility and Process Safety Management (PSM) and Risk Management Services (RMS) areas. In addition to parts and laboratory testing, on-site consulting services are a key customer request.
###