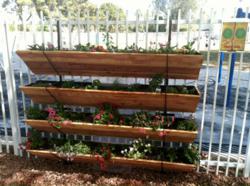 The intended goal is to foster early interest in gardening and sustainability for kids.
Phoenix, Arizona (PRWEB) April 30, 2013
Flower Street Urban Gardens is proud to announce a new milestone this month by introducing schools all over the country to this exciting new opportunity.
Flower Street Urban Gardens is partnering up with schools to provide vertical garden systems that will serve as facilitating tools to teachers, this will give kids a hands on learning experience in gardening and sustainability.
Students will observe the filtration of water as it transfers into each tier below, operate soil, add compost, plant seeds, and much more.
The schools have a variety of options regarding the mounting space, this will of course be determinant upon the facility and logistic layout of the school. Any wall space, railing, or fencing can be a potential housing source for a beautiful living wall.
Schools are in a unique position to put readily available wall space and fencing to work in the form of a fully functional and operative gardening system that will raise the aesthetic value of the campus.
If it is favorable to avoid direct mounting to walls or fencing, Flower Street Urban Gardens manufactures free standing mobile carts that will more than accommodate these requirements. Heavy casters will ensure not only the structural stability of the system but also its easy access and ability to traverse over cracks, cable, grass, and gravel.
In addition, free standing posts could be easily assembled in perhaps a field or courtyard to where the vertical gardens would be suspended just as soon that way.
Flower Street Urban Gardens is invested in community driven projects, the response from students, faculty, and parents has been nothing short of amazing. The kids are especially excited, which if its any indication will grow into a wonderful part of their education and development.
The intended goal is to foster early interest in gardening and sustainability for kids.
Facilitating in Biology, Organic Matter, Botany, and Horticulture all have a systemic potential with Flower Street Urban Gardens and can be used at all stages of development starting at Pre-K, continuing into Kindergarden, Elementary, all the way through Junior High, High School, and beyond into College.
Flower Street Urban Gardens works to achieve this by giving the kids hands on learning and by actively engaging them.
In addition to reading about what growing is like and how it works mechanically and conceptually, kids and young adults are able to get their hands dirty and watch something that they put in the soil grow right before them.
Visual learning often supplements conceptual learning and theory to great effect by solidifying the learning material in a physical and material way.
This serves to resonate with the children in a way that stimulates curiosity and peaks their interest in a way that traditional linear text-based learning frequently falls short of.
The goal inherent is to give the kids every possible advantage in attaining higher education through the wonderful and winding world of learning. All children have the potential to be great thinkers yet far too often their innate potential, curiosity, and imagination is subverted away from education.
Children must be actively engaged in order to stay interested long enough to find the rewards of learning.Given the state of education in the U.S. the statistic are not in the child's favor, particularly regarding the global economy they will have to be prepared and qualified for to compete in.
However, this all comes back to variables and potential. This all comes back to growing, Flower Street Urban Gardens gives back to local communities and fosters interest in learning and growth in education for the young minds to grow into the next great generation.
Contact Alex at 602-327-6560 with any questions and visit us on Facebook and at http://www.flowerstreeturbangardens.com