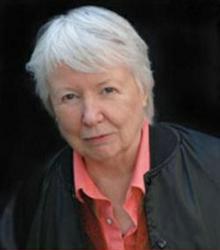 (PRWEB) April 19, 2013
Internationally acclaimed poet and Sofia University professor, Judy Grahn, has been nominated to win a Northern California Book Award in Creative Nonfiction on behalf of the Northern California Book Reviewers (NCBR). Grahn's new memoir, A Simple Revolution – The Making of an Activist Poet, has been nominated as one of the best works by a Northern Californian published in 2012. Grahn is also nominated to win a Lambda Literary Award this year in the memoir category. She has won two Lambda Literary Awards in the past.
Grahn has written twelve books and poetry collections, including Blood, Bread, and Roses – How Menstruation Created the World, and Another Mother Tongue – Gay Words, Gay Worlds. She currently co-directs and teaches in the Women's Spirituality program at Sofia University in Palo Alto. Grahn has received a grant from the National Endowment for the Arts, an American Book Review award, a Before Columbus American Book Award, a Stonewall Award (formerly the American Library Award), and a Founding Foremothers of Women's Spirituality Award.
A Simple Revolution is Judy's first memoir and tells her life story from the age of eight to the age of forty. Widely recognized as one of the most iconic figures of the gay women's liberation movement, Grahn's memoir reflects on the women's and gay rights movements of the 1960s and 1970s. Particularly intriguing is her involvement with iconic figures and movements in history, such as the Black Panthers, the imprisoned Manson women, and Inez Garcia. Throughout her story, her perspective changes and she serves sometimes as witness, sometimes as participant, sometimes as instigator.
The Northern California Book Awards were established by the NCBR (formerly BABRA) in 1981 to honor writers and recognize exceptional service in literature in northern California. The awards recognize excellence in Fiction, Nonfiction, Poetry, Translation, and Children's Literature.
The Lambda Literary Foundation nurtures, celebrates, and preserves LGBT literature through programs that honor excellence, promote visibility and encourage development of emerging writers. The Lambda Literary Awards identify and celebrate the best lesbian, gay, bisexual and transgender books of the year.
Copies of A Simple Revolution can be purchased at http://www.auntlute.com. For more information on Judy Grahn, please visit http://www.judygrahn.org.
About Sofia University
Founded in 1975, Sofia University (formerly the Institute of Transpersonal Psychology) is a private, non-sectarian university accredited by the Western Association of Schools and Colleges. For over 35 years, within the context of scholarship and research, the school has offered transformative education for the whole person, probing the mind, body, spirit connection. As Sofia University, the school is broadening its mission, reaching into multiple disciplines and adding undergraduate study. For more information, visit http://www.sofia.edu.