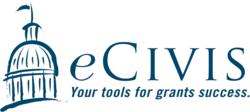 "The City of Boynton Beach grants team is excited about this new capability," said Debbie Majors, Grants Coordinator for the City of Boynton Beach. "It will enhance our administrative oversight by providing better visibility and accountability."
Pasadena, CA (PRWEB) April 18, 2013
eCivis (http://www.ecivis.com), the nation's leading cloud-based grants management system, today announced the launch of its new data integration services, Grants Network: Data Integration, with the Port of Long Beach, CA, and the City of Boynton Beach, FL. eCivis will provide data integration capabilities that allow eCivis to extract, transform, and load grants information from its client's financial system into the eCivis Grants Network system.
"The City of Boynton Beach grants team is excited about this new capability," said Debbie Majors, Grants Coordinator for the City of Boynton Beach. "It will enhance our administrative oversight by providing better visibility and accountability." Grants Network: Data Integration will improve both programmatic and fiscal grants compliance by integrating reimbursement and audit data within eCivis Grants Network. This integration provides a complete picture of an organization's grants portfolio, while driving down costs and improving the overall performance and effectiveness associated with management of each grant award.
"Customer and market feedback inspired the development of Data Integration," said eCivis CEO James Ha. "Managing grant awards today requires the use of too many information silos, financial systems, spreadsheets and duplicated efforts. It incurs needless costs, reduces capacity and is unsupported by ERP systems. Using cutting-edge cloud technology, we are solving an incredibly difficult and time-consuming problem for our customers."
Along with the City of Fort Worth, TX, the Port of Long Beach and the City of Boynton Beach have added to the growing list of eCivis clients that have partnered to pilot this latest technology innovation. eCivis is also working with over a dozen other organizations to begin new partnerships with Grants Network: Data Integration over the next few months.
Grants Network: Data Integration was designed to benefit any grant-active organization that collects and enters data multiple times to understand the status of a grant, has had an audit finding(s), or has had difficulty determining how much of a grant has been used. Any organization that seeks to get its financial and programmatic systems and personnel on the same page will find great value in partnering with eCivis.
About eCivis
eCivis is the nation's leading grants management software solution and the ideal platform for improving local governments' and community-based organizations' grants performance.