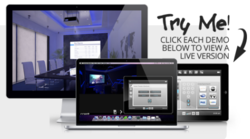 "What better way is there than to 'show them' via an interactive experience." -- Shawn Busha, Managing Partner
Longview, TX (PRWEB) April 17, 2013
Relidy today officially announced its strategic partnership with innea, the Germany-based marketing firm that specializes in developing "living architecture," marketing tools exclusively for automation integration professionals.
In recent years, Relidy has grown from offering a handful of sales tools to providing dozens of industry-tailored marketing products and services for home technology integrators throughout the world. From website and SEO solutions to a host of print design options, eNewsletters, logowear, vehicle graphics and more, Relidy offers just about every sales and marketing tool an integrator may need. The new partnership with innea is a natural expansion of these services.
Based in Germany, innea creates virtual showrooms for the Audio/Video and Building Automation industries. The partnership permits Relidy to represent innea's product line to their base of integrator clients. Relidy's clients who become innea subscribers can now invite their customers to view photo-realistic 3D rendering and animation samples. These marketing services have made innea the destination firm of Europe, and access to such quality virtual showrooms has never been easier for home automation professionals.
One Firefly LLC, headquartered in Hollywood, FL, remains the exclusive master distributor for innea in North, Central and South America. One Firefly brokered the agreement between Relidy and innea, as they continue to develop relationships that have a positive impact throughout the industry.
"Consumer interest in home automation is becoming more mainstream every day," said Tobias Bauer, Managing Director of innea. "Our relationships with Relidy and One Firefly position innea in front of almost the entire home technology industry across the globe, which is very exciting."
"Part of our goal at Relidy has always been to help businesses in our industry better convey the value of their services," said Sean Busha, a managing partner at Relidy said. "Beyond enhancing lifestyles, home and business automation systems have very practical benefits that more and more consumers need to know about. What better way is there than to 'show them' via an interactive experience. We're excited to partner with innea and to provide our base of integrators this powerful new set of visual marketing tools to aid in their sales presentations and overall help expand the reach of this industry."
About Relidy
The name "Relidy" derives from 'Resources for Lifestyle Design'. The custom electronics industry is all about enhancing lifestyles through technology. Here at Relidy, we're all about helping integrators succeed in their business and therefore enhance their lifestyle as well. Our growing team consists of professional graphic designers, website developers, degreed software programmers, and marketing experts. We make it easy too. It all starts online at http://www.relidy.com where you'll find the right solution(s) for you. Placing an order and setting up an account is easy. Your assigned designers will then contact you to begin the project with a creative brief. From there, you will work closely with your design team to get the project just right before your approval.
About innea
innea creates virtual showrooms for the AV and Building Automation industry. From your website to the final product, our three product lines help you step-by-step during the whole process of selling and implementing automation systems. Spark the imagination of every prospect by utilizing the iPad and our innea apps. Visit us on the web at http://www.innea.de .
About One Firefly LLC
One Firefly, LLC is the parent company to three business Units, each offering a unique selection of services geared around the custom electronics industry. Firefly Design Group is the leading design, engineering and consulting firm specializing within the integrated building technology space. Firefly Programming is a full service control system programming company specializing in Crestron and Prodigy technology solutions. Firefly Creative is a full service marketing and public relations agency that caters to the custom electronics industry's member contractors and manufacturers. One Firefly, LLC is based in Hollywood/Fort Lauderdale, Florida with additional offices in Mexico and has been operating since 2007. For more information visit http://www.onefirefly.com.
# # #