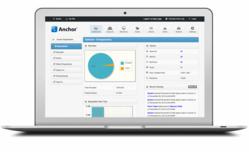 Imagine having the file server on your phone, on your laptop, and at home - without dealing with FTP or VPN.
San Francisco, California (PRWEB) April 17, 2013
As part of Anchor's latest release, Version 1.4, file server enablement allows IT professionals to map an existing file structure to the Anchor cloud service. The new feature seeks to replace outdated VPN and FTP access that hinders a user's ability to access files.
"Most businesses have a file server that users map drives to when they are in the office," explained Pierre Tapia, Vice President of Product and Anchor Co-Founder. "When outside of the office, employees have to use clunky and often slow technologies to access the file server, which is hosted on the office's local area network. Anchor's file server enablement changes all of this."
Anchor allows IT professionals and administrators to map their existing file server structure to the cloud; employees and users can access their files by using the Anchor sync agent, the web, or their mobile devices instead of using VPN and FTP. While in the office, users can use their mapped drives as usual while the Anchor client syncs everything in the background, on the file server.
"Imagine having the file server on your phone, on your laptop, and at home - without (ever) dealing with FTP or VPN," says Tapia. "We are cloud-enabling legacy technology, so that people can have the freedom to access files, without hassle."
File server enablement is one of many features in the Anchor v1.4 release. Other new features include two-factor authentication and advanced auditing that allows admins to view who, when, and which machine accessed a file.
"We're constantly making improvements," says Bryan Forrester, Vice President of Business Development at Anchor. "And file server enablement was one of our most anticipated features - we knew our partners were going to love it."
Anchor is available on Windows, Linux and OSX. Anchor offers SaaS and on-prem hosting options.
---
Anchor is a leading provider of file synchronization for IT professionals. Anchor was founded in 2011 and is privately funded. The company is headquartered in San Francisco, California. For more information, please visit AnchorWorks.com or call 415-541-9002. Anchor was awarded "Best Newcomer" at IT Nation's 2012 Partner's Choice Awards.