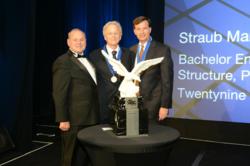 Washington, D.C. (PRWEB) April 18, 2013
Associated Builders and Contractors (ABC) today announced that Straub Construction, Inc. and Martin Harris Construction of the Straub-Martin Harris Joint Venture, has earned a National Excellence in Construction Eagle Award for their work on the Bachelor Enlisted Quarters & Parking Structure, Package 9 project in Marine Corps Air Ground Combat Center, Twentynine Palms, CA. The award was for the top project in the Mega-Projects - $100-$200 Million category of ABC's Excellence in Construction Awards. Straub-Martin Harris representatives received the award during the 23rd annual Excellence in Construction Awards celebration at the Harbor Beach Marriott Resort in Ft. Lauderdale, Fl.
Straub Construction, Inc. is a design-build general contractor headquartered in Fallbrook -- North San Diego County and Martin-Harris Construction is headquartered in Las Vegas. Together, as the Straub-Martin Harris Joint Venture, they have built nearly 600,000 sf of bachelor enlisted quarters.
"ABC is proud to recognize Straub-Martin Harris for its outstanding work on the Bachelor Enlisted Quarters & Parking Structure, Package 9 project," said Michael D. Bellaman, ABC president and CEO. "This project embodies a commitment to innovation, safety and superior craftsmanship through creativity and skill."
The Excellence in Construction awards program is the industry's leading competition, developed to honor innovative and high-quality merit shop construction projects. The award honors all construction team members, including the contractor, owner, architect and engineer. The winning projects, selected from entries submitted from across the nation, were judged on complexity, attractiveness, unique challenges overcome, completion time, workmanship, innovation, safety and cost.
Straub Martin Harris helped improve troop morale by providing the Marine Corps Air Ground Combat Center with LEED Platinum-designed facilities in the middle of the desert, including three barracks, an amphitheater and multiple recreation facilities. This same project won a Greener America Award which was awarded at the same time as the Excellence in Construction Award.
A panel of industry experts served as the competition's judges. This year's panel included representatives from the Design-Build Institute of America, Engineering News-Record, the American Institute of Architects, and the National Association of Women in Construction, and representatives from higher education, among others.
###
Associated Builders and Contractors (ABC) is a national association with 72 chapters representing 22,000 merit shop construction and construction-related firms. http://www.abc.org