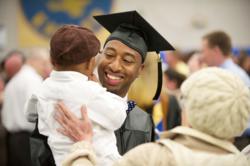 Cornerstone University will confer a record-number of diplomas this year.
Grand Rapids, Michigan (PRWEB) April 17, 2013
Cornerstone University will confer a total of 706 diplomas, the largest amount in the history of the university, during its three commencement ceremonies the first weekend in May.
The class of 2013 will be the largest undergraduate class to graduate with 245. It is the first class during Dr. Joe Stowell's presidency who has been here the entire four years. He accepted the position in 2008.
The previous high was in 2008 with 240 traditional graduates.
The historic commencement will be held at 10 a.m., May 4 in the Hansen Athletic Center on campus with keynote speaker Dr. Amy Black, associate professor of Political Science and Politics and chair of the International Relations Dept. at Wheaton College in Wheaton, Ill.
The Grand Rapids Theological Seminary will graduate 71 students on May 3, 2013 and the Professional and Graduate Studies Program will graduate 261 undergraduates degrees and 109 graduate degrees. The Asia Baptist Theological Seminary will graduate 20 students on May 4.