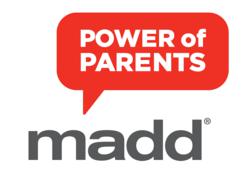 Taking away the keys truly does not take away all of the risks when it comes to underage drinking.
Washington, DC (PRWEB) April 17, 2013
-- MADD's Annual Day for Parents to Talk with Teens about Alcohol is April 21, 2013 --
Each year, about 4,700 people die as a result of underage drinking (according to SAMHSA, the Substance Abuse and Mental Health Services Administration), and the majority of those deaths related to alcohol use among 15 to 20 year olds are not on our roadways. As part of Alcohol Awareness Month and in advance of the third annual PowerTalk 21® day, Mothers Against Drunk Driving (MADD) announces a new analysis of data that estimates 68 percent of deaths related to underage drinking are not traffic related — which illustrates the importance of preventing underage drinking, even if there's no driving involved.
Using 2010 data from the Federal Bureau of Investigation (FBI), the National Highway Traffic Safety Administration (NHTSA) and the Centers for Disease Control and Prevention (CDC), MADD estimates that 32 percent of all deaths related to underage (age 15-20) alcohol use were traffic fatalities and 68 percent were other fatal incidents, including homicides (30 percent), suicides (14 percent), alcohol poisonings (9 percent) and other causes of death (15 percent).
"These data show that taking away the keys truly does not take away all of the risks when it comes to underage drinking," said MADD National President Jan Withers. "MADD hopes this information will inspire parents to have ongoing conversations with their kids about the dangers of drinking alcohol before age 21, especially since we know that a majority of kids say their parents are the biggest influence on their decisions about alcohol."
MADD and National Presenting Sponsor Nationwide Insurance® encourage families to connect on PowerTalk 21 day — the national day on April 21st for parents to start talking with their kids about alcohol, using the Power of Parents® handbook as their guide.
"Parents who think their children are safe because they have agreed not to drink and drive are actually only preventing about a third of the risks associated with underage drinking," said Bill Windsor, Nationwide Insurance Associate Vice President of Consumer Safety. "MADD and Nationwide have partnered to help raise awareness about how alcohol is affecting our society as a whole in an effort to prevent the needless deaths and injuries associated with underage drinking."
The Power of Parents handbook provides parents and guardians with the tools and resources to have the sometimes difficult, but potentially lifesaving conversation about alcohol with their kids on PowerTalk 21 day and throughout the year. Developed with Pennsylvania State University's Dr. Robert Turrisi, the handbook is based on his more than two decades of underage drinking research, which has been shown to significantly reduce underage drinking behaviors, even in households with below average communication.
MADD Affiliates across the country are offering free parent workshops leading up to PowerTalk 21 day. These 30-minute workshops are designed to inform parents and other parental figures about the importance of frequent, ongoing communication about alcohol, in order to reduce underage drinking and its associated dangers. To contact your local MADD Affiliate, visit: http://www.madd.org/local-offices/.
Nationwide Insurance is the national presenting sponsor for Power of Parents, and the GM Foundation is a national supporter. National program partners include:

National Football League (NFL)
National Parent Teacher Association (PTA)
American Association of School Administrators (AASA)
National Association of Secondary School Principals (NASSP)
National Association of School Resource Officers (NASRO)
The Partnership at Drugfree.org
National Organizations for Youth Safety (NOYS)
Drug Free Action Alliance (DFAA)
For conversation starters, tips and to get the Power of Parents handbook, visit http://www.madd.org/powertalk21.
About Mothers Against Drunk Driving
Founded by a mother whose daughter was killed by a drunk driver, Mothers Against Drunk Driving® (MADD) is the nation's largest nonprofit working to protect families from drunk driving and underage drinking. With the help of those who want a safer future, MADD's Campaign to Eliminate Drunk Driving® will end this danger on America's roads. PowerTalk 21® is the national day for parents to talk with their kids about alcohol, using the proven strategies of Power of Parents® to reduce the risk of underage drinking. And as one of the largest victim services organizations in the U.S., MADD also supports drunk and drugged driving victims and survivors at no charge, serving one person every eight minutes through local MADD victim advocates and at 1-877-MADD-HELP. Learn more at http://www.madd.org or by calling 1-877-ASK-MADD.
About Nationwide
Nationwide Mutual Insurance Company, based in Columbus, Ohio, is one of the largest and strongest diversified insurance and financial services organizations in the U.S. and is rated A+ by both A.M. Best and Standard & Poor's. The company provides customers a full range of insurance and financial services, including auto insurance, motorcycle, boat, homeowners, pet, life insurance, farm, commercial insurance, annuities, mortgages, mutual funds, pensions, long-term savings plans and specialty health services. For more information, visit http://www.nationwide.com.
Nationwide, the Nationwide frame mark, and On Your Side are service marks of Nationwide Mutual Insurance Company.