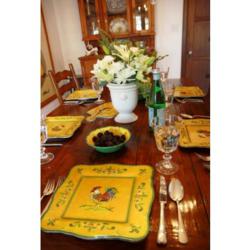 (PRWEB) April 16, 2013
La Maisonware is pleased to announce their newly revamped website, designed with customer comfort and ease of shopping in mind. The old, prehistoric navigation system was much too painful to look at, so they scrapped the whole thing and started from scratch. This way their customers will have a much better experience visiting the website, and their eyes will stop hurting. Needless to say, La Maisonware aims to please.
La Maisonware is now the main distributor of the entire Le Cadeaux product line with a new shipment of Le Cadeaux Glassware, along with accompanying accessories. There's more to an elegant dinner table than fancy plates, and they aspire to encompass each and every aspect of the perfect dining experience. From casual dinnerware, to glassware, to linens, the only dining-related item customers will be hard pressed to find at La Maisonware is a home cooked meal. But who knows, maybe someday they could give them that too.
The new website also includes a Style Guide that makes shopping for casual dinnerware convenient and easy. No longer do customers have to frantically search the web in hopes of finding two matching pieces of dinnerware. With our new Style Guide, we've consolidated everything in a neat, organized, and colorful chart; the dinner table setup of their dreams is now only a few clicks away. La Maisonware is one of few companies offering all of the Bella, San Miguel, and Seville melamine dinnerware sets, so mixing and matching will be no problem with them.
Aside from the new products and style guide that makes it easy to compare the various melamine dinnerware sets, they are pleased to provide customers with a streamlined & interactive website to make their visit the best shopping experience possible. La Maisonware now has dedicated icons for social media, with the company's live twitter feed at the bottom. If customers ever need their friends to weigh in on a purchase decision, they've made that easy—just click 'Email to a Friend' to the right of the product image. If customers have their heart set on something (like the beautiful new Le Cadeaux Glassware to match their dinnerware) but don't quite have the funds to purchase yet, they can check out with PayPal's Bill Me Later option which grants them 6 months to pay for purchases of $98+ with no interest.
La Maisonware would like to thank their customers for pardoning their dust during the transition period. Everything was done with the customers in mind; if any customers have comments or concerns La Maisonware is always quick to respond and accept suggestions that will help improve and expedite services. Great customer service paired with extraordinary products is the combination they constantly strive to embody, as they hope to serve customers every dinnerware need.