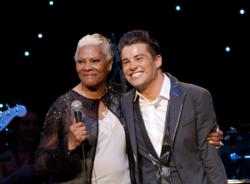 As Dionne Warwick says "If you think it, you can do it!"
(PRWEB) April 18, 2013
Educating the next generation about the whys and wherefores surrounding 870 million people's daily challenge facing chronic and persistent hunger is part of The Hunger Project UK's mission for 2013.
This missive was originally translated into a 'One World One Song' premiere at World Hunger Day 2012 at the Royal Albert Hall in London. Music for this song was composed by the legendary songwriter, Tony Hatch, and was sung/accompanied by Dionne Warwick, Joe McElderry, The London Community Gospel Choir, Southbank Sinfonia and the 250-strong World Hunger Day Youth Choir from Woodbridge School, Suffolk (UK).
Just one year on, 'One World One Song' is about to be launched as a single in its own right featuring the full original cast. It will be the UK's first charity single to be recorded in conjunction with a British education programme of this kind. 'One World One Song' will be launched as a single globally on 27th May 2013. All proceeds will go directly to The Hunger Project supporting their partner communities in Sub-Saharan Africa, South Asia and Latin America.
Commenting on the dual-purpose educational-fundraising strategy of 'One World One Song,' The Hunger Project UK's Country Director, Tim Holder, said:
"I am delighted that we have the opportunity to engage young people, possibly for the first time in schools about the lives of families who may be just like their own but whose future is stunted by the daily challenge of living in extreme hunger and poverty. By introducing the UK's first ever cross-curricular educational programme, we aim to educate and communicate why chronic, persistent hunger exists and how our young people should step up within their own communities to create solutions to end this terrible situation. The future of us all is in the hands of the next generation – they have the power to end this plight once and for all.
"Furthermore, by launching the UK's first educational single with-a-purpose, blending three generations of musical and artistic genius, we are not only raising the charitable bar by making fundraising accountable to young and old alike but also creating a socio-economic platform for tomorrow's leaders to learn from today's lessons. We want everyone to listen to the lyrics, to purchase and participate in the song, with a view to sparking levels of engagement and genuine understanding that we all take direct action," he added.
The Hunger Project UK's Ambassador for Education and also Head of Sixth Form at Woodbridge School, Nicki Carter, added:
"As the Head of Sixth Form of a British school I am deeply inspired and delighted to be part of the creation of this new and innovative approach to educating young people. The Hunger Project is committed to delivering sustainable solutions rather than offering quick-fix emergency aid for communities exposed to chronic and persistent hunger. As Dionne Warwick herself says 'If you think it, you can do it' and The Hunger Project's no-nonsense approach to solution-led fundraising support fully endorses Dionne's words. I only hope that teachers throughout the UK also feel the same way and take action themselves."
Lessons relating to The Hunger Project's cross-curricular educational programme will include some of the following subject areas for children in Year 8, aged 12-13, initially created by Suffolk-based teachers for schools across the UK. Further down the line, it is hoped that other schools will create their own bespoke programme via a pick and mix of resources available to all:

Drama
English
Geography
History
Maths
Music
PSHE (Personal, Social, Health Education)
Religious Education
Science
(plus others over time)
'One World, One Song', featuring Dionne Warwick, Joe McElderry & Friends, will be available for pre-order from the 17th May 2013 globally. A backing track will also be available to buy/download as well as the single itself for both communities and individuals alike. What is important is that we are all singing and sharing the meaning of 'One World One Song.' Over the coming days all social media channels will be live in relation to the single so that you can share and celebrate 'One World One Song' via youtube, Twitter, Facebook etc.
Look out for the next step for 'One World One Song' at World Hunger Day Unplugged Concerts between 26th and 28th May 2013 in Central London.
For more information about the 'One World One Song' Schools Project and the launch of the charity single, please visit http://www.thehungerproject.org.uk
Follow us @OneWorldOneSong on Twitter
Like our Facebook page The Hunger Project UK
-ends-
For media information, interview opportunities, song lyrics, biographies and images, please contact:
Miranda Leslau
miranda leslau pr
07912 644993
miranda(at)mirandaleslau(dot)com
Editor's Notes:
'One World One Song' is the world's first charity single that has been supported by the education system. A pilot scheme with potential roll-out the world over, all teachers involved at this stage are from Private and State School Background including those engaged with Special Educational Needs. The World Hunger Day Youth Choir who sang at the Royal Albert Hall in 2012 was originally made up of 250 children from Woodbridge School in Suffolk. One year on, additional school children, including a pupil referral unit, have joined the original Choir. Choir members derive a variety of schooling backgrounds reflecting inclusivity in this unique and necessary educational mission.