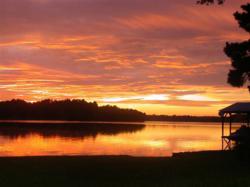 "Jacksonville is a great place to purchase homes as the cost of living and property taxes are lower than surrounding areas," said Becky Hesterley.
Jacksonville, TX (PRWEB) April 29, 2013
Jacksonville of East Texas has been a favorite destination for the scenery, industrial growth, recreation parks and is now a popular location for the retirement community. Centrally located between major metropolises, including Dallas, Houston, Austin and Shreveport, Louisiana, Jacksonville, offers retired individuals a beautiful setting in a friendly town that has access to big city life, as well.
As a certified retirement community, Jacksonville is located among rolling hills in East Texas, just south of Tyler, Texas. Located at the intersection of two major highways—Highway 69 and Highway 79—Jacksonville offers accessibility to nearby areas.
According to Keller Williams REALTOR® Becky Hesterley, "Jacksonville is a great place to purchase homes as the cost of living and property taxes are lower than surrounding areas." Hesterley, a native of Jacksonville, has been a REALTOR® since 2007 and has been actively involved in the Jacksonville community for the past decade.
"Lake Jacksonville continues to be a destination in high demand for retirees. Many of my buyers purchase a lake front home to retire in or with the intention to retire there, particularly because of the beautiful scenery," according to Hesterley. Lake Jacksonville is a 1300 acre recreational lake located just three miles southeast of the city. Hesterley and her husband purchased a property and intend to retire there to enjoy the scenery in a town that she says still offers the Southern hospitality that Texas is known for.
Marleene Jowell, a home owner on Lake Jacksonville originally purchased a property as a weekend get-away. Jowell and her husband, who have lived in various states and several countries, said this of Jacksonville: "As we began to think about retiring, we started evaluating and comparing each local we visited to see what amenities were offered that might appeal to retirees. But, each time we traveled, we couldn't wait to get back to Jacksonville and the serene beauty of the lake. Nowhere else could compare with the lifestyle available in Jacksonville, providing us with lake amenities, as well as good local theaters, restaurants, shopping and medical facilities. We've now been retired here for several years and love it. In addition to lake recreation activities we also enjoy road trips to the beautiful surrounding areas and participating in local events like the Tomato Fest, rodeos, art fairs, holiday parades, Fourth of July fireworks over the lake and ATV and motorcycle events."
Becky Hesterley of Keller Williams Realty is an expert REALTOR® in Jacksonville, Texas. To learn more about buying and selling homes in the Jacksonville area, including area information and property availability, visit her website at http://www.easttexasliving.net.
Notes to Editors:
Texas Biz Solutions, with offices in both Dallas, Texas and Tyler, Texas, develops online marketing solutions for small businesses offering basic to comprehensive online marketing strategies for a competitively low price. These solutions include improving search engine optimization for top placement in Google+, building custom websites that integrate social media outlets, including Facebook, Twitter and YouTube, as well as custom management of online design and marketing strategies. For more information about Texas Biz Solutions, visit http://www.TexasBizSolutions.com.