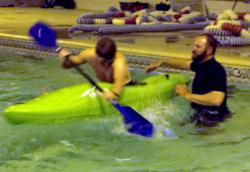 These guys need to be pushed out of their comfort zone... it's a huge tool to recovery.
Flagstaff, Arizona (PRWEB) April 18, 2013
The B2B residents are currently taking a training course put on by NAU Outdoors to help prepare them for their first river trip of the year. After completing their five, four hour-long classes, they plan to head north to Utah to launch their three-day San Juan Kayaking Trip.
"The instruction is great! The NAU Outdoors staff really helps prepare these guys for what to expect on the river," states David Maestas, a guide with Back2Basics who will be accompanying the guys on the trip. "They are taught about river safety, bracing, paddling techniques, and how to roll should the kayak capsize."
"What I like about this trip is that it is something you have to train and prepare for," states Roy Duprez, CEO and Founder of Back2Basics. "This trip is a perfect example of putting in the work, and getting to reap the reward."
For most of the residents, as well as David Maestas, this will be their first time on the river. "I'm nervous!" states Maestas. "For me, this trip will be downright scary and a huge challenge, but that's exactly what these guys need. These guys need to be pushed out of their comfort zone... it's a huge tool to recovery."
From backpacking the Grand Canyon, to skiing in Colorado, to surfing in Mexico, Chase Christensen, an Outdoor Adventure Guide with Back2Basics, has been on just about every excursion the company has planned. "This trip is just another unique experience that these guys probably wouldn't get to do otherwise," states Christensen. "Drugs and alcohol limit the ability to think outside the box, and its trips like these that expand their horizons and allow them to have a bigger and better future after Back2Basics."
Having the chance to work with NAU Outdoors is a great opportunity, according to Duprez. "They know this demographic and work well with these guys to ensure they have a positive experience and get the most out of these trips." Duprez plans to work with the NAU Outdoors Department scheduling trips throughout this year, and the years to follow.