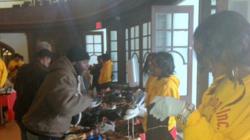 I wanted to give back to the community by empowering adolescent girls
(PRWEB) April 18, 2013
Hundreds of Philadelphia men, women, and children came from across the city for thousands of free new and gently worn shoes collected by Teenshop, Inc.®, a nonprofit program that prepares teen girls for college and careers.
Teenshop Inc. was founded in 1985 by Elleanor Jean Hendley, an Emmy-award winning former CBS 3 TV news education reporter and talk show producer/host. While teaching in the New Jersey school system, Hendley knew firsthand how enrichment activities help students achieve and builds self-esteem. "I wanted to give back to the community by empowering adolescent girls," remarked Hendley.
Shoes for Life, the group's annual community service project, is held at Berean Presbyterian Church, and includes free onsite foot screenings by doctors from Temple University's School of Podiatric Medicine.
This year Teenshop added a Celebrity Prom Shoes Salon and partnered with Fairy Godmothers of PA, an organization that provides donated gowns to girls in need. Singer/Actress Brandy Norwood was among celebrities who donated shoes to help a girl feel like a star on Prom Night.
About Teenshop
Now celebrating 28 years serving 'girls with goals', Teenshop is one of the nation's longest running weekend programs dedicated exclusively to the empowerment of adolescent girls. Three chapters are located in Philadelphia and one in Los Angeles, California. More than five thousand girls have been enrolled and all graduates go to college or professional schools. For more information visit http://www.teenshop.org or call 215-851-1842.