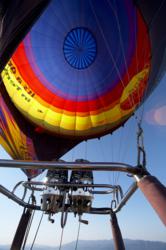 Temecula, CA (PRWEB) April 17, 2013
"From floating serenely in a hot air balloon above rolling hills and vineyards, to the thrill of tandem-skydiving, and indoor sky-diving wind tunnel, freefall-sensation. These are Temecula Valley Southern California Wine Country's Top 3 Aerial Experiences provided in answer to adventurers' ongoing inquiries," explains Kimberly Adams, Temecula Valley Convention & Visitors Bureau president and CEO. "Celebrating a Temecula Valley Wine Country visit with an aerial point of view makes spring-and-summer stays memorable. These adventures are especially great for birthdays, wedding proposals, during California Wine Month, and for group-travel and business-incentives." Special, midweek, Sunday-through-Thursday, (better-than-weekend) hotel-resort nightly room- and group-rates, mean savings that become additional resources for aerial adventures. Travel time to the popular, boutique-destination is 1-hour from San Diego, Orange County, Palm Desert; 1½ hours from Los Angeles.
1-Hot Air Balloon Flight over Temecula Valley Southern California Wine Country
A hot air balloon flight over Temecula Valley Southern California Wine Country is the opportunity to experience some of Southern California's last remaining open, rural countryside. Floating serenely over open-country with a big, blue sky overhead provides spectacular views of rolling hills, vineyards, farms, ranchlands, and citrus groves.
Throughout the year, flights highlight ever-changing, seasonal scenes. Wisps of summer's morning mist lingering above vast, lush vineyards. Chance-opportunities to witness grape harvest at dawn. The brisk-cool of autumn as vines' leaves turn golden and red. The crisp of morning in winter, dormant vines row-upon-row, and snow-capped mountains circle the valley. Then wildflowers in bloom after early spring rains.
The valley's delightful, year-round climate makes it possible for A Grape Escape, California Dreamin', D&D Ballooning, and Magical Adventures to launch at sunrise, year-round, 7-days-a-week including holidays (weather permitting) – floating quietly, just above the vineyards and to 2,000 feet; flights are approximately 1-hour. Because hot air balloons fly in Southern California's inversion zone, temperatures aloft are typically as mild-and-comfortable as on the ground.
Hot air balloon baskets accommodate 2-passengers for romantic flights, up-to-12-or-14 (families, friends, coworkers). Fleets of multiple hot air balloons accommodate larger groups (to-40-passengers). Magical Adventures newest fleet has doors in the baskets for a walk-on/walk-off experience. Many hot air balloon companies offer special celebration-packages, sparkling-wine toasts, and certificates-of-flight. Additionally, hotels and resorts (Pechanga Resort & Casino; Uptown Temecula's Fairfield Inn & Suites, Holiday Inn Express, and SpringHill Suites by Marriott) offer lodging-and-hot-air-balloon-flight packages.
2-Tandem Skydiving at Lake Elsinore
North of Temecula, Skydive Elsinore is located next to Southern California's largest natural lake and Santa Ana Mountains' Ortega foothills. Outfitted in a jumpsuit, goggles, altimeter, and harness that secures one to the tandem instructor is a way to experience the thrill of freefall – the wind rushing and the sense of speed – and flying, then pulling the student ripcord (should jumper choose not to, instructor pulls it) of a parachute made-for-two.
Before taking-off and jumping from an altitude of about 12,500 feet, tandem skydivers receive training: exiting the aircraft; arching one's body in freefall; familiarization with the tandem parachute; how to pull the ripcord at the right altitude. Tandem-skydiving, freefall averages 120 miles-per-hour (200 feet-per-second); generally lasts about 60 seconds.
3-Indoor Skydiving at Perris Skyventure
A state-of-the-art, 96-foot-tall, vertical wind tunnel makes indoor skydiving and the sensation of freefall – without an airplane – possible. Geared-up (jumpsuit, helmet, earplugs), participants generally become familiar with floating on the powerful column of air in a few minutes.
The skydiving wind tunnel is a pressurized room with two compartments: an antechamber/waiting-room; and chamber where the wind flows. Typical flying sessions are 1-to-2 minutes; for a more thorough flight-experience, 4-minutes; number of sessions typically depends on fitness and experience. Small groups generally share 30-to-60 minutes. An instructor supervises each group. The airflow is custom-adjusted to the flyer's body-size and experience. Through hand-signals, the instructor assists with proper form and flying techniques.
*Information is believed accurate but may be subject to change.
ABOUT TEMECULA VALLEY AND THE TEMECULA VALLEY CONVENTION & VISITORS BUREAU
With natural gifts of climate and geography (Pu'eska Mountain, Rainbow Gap, and Santa Margarita Gap), Temecula Valley is most widely recognized for its quality wines, large and boutique wineries as Temecula Valley Wine County – considered Southern California's only major American Viticulture Area (AVA). The popular boutique-destination recently received TripAdvisors' Travelers Choice "Best U.S. Wine Destination Top 10" award and includes a trio of main attractions: Downtown Old Town Temecula, Temecula Valley Southern California Wine Country, and Pechanga Resort & Casino.
The Temecula Valley Convention & Visitors Bureau, official tourism marketing organization and resource for visitors, is online at VisitTemecula.org; Facebook, "Temecula Valley Southern California Wine Country"; Twitter, @Visit_Temecula. The Temecula Valley Visitors Center (Third Street and Mercedes, adjacent the free Old Town Temecula Parking Garage) is open 7-days. For visitor information and assistance, call 888/363-2852, 951/491-6085.