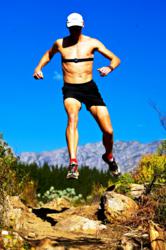 After decades of using heart rate monitors we are convinced that heart rate spikes and drop-offs can best be avoided by using a good gel on the transmitter strap prior to exercise
Bozeman, MT (PRWEB) April 17, 2013
The Heart Rate Watch Company has added Spectra 360 Electrode Gel to their website to give their customers a boost in conductivity for heart rate signal and improve accuracy.
Spectra 360 Electrode Gel is the only salt-free and chloride-free electrically conductive gel on the market. Salt-free characteristics make it particularly suitable for long-term applications for endurance based sports.
"After decades of using heart rate monitors we are convinced that heart rate spikes and drop-offs can best be avoided by using a good gel on the transmitter strap prior to exercise," says Rusty Squire, President of the Heart Rate Watch Company. He adds, "Electro-conductivity varies a lot from individual to individual so a little gel goes a long way toward insuring data accuracy."
A SMALL INVESTMENT THAT MAKES BIG SENSE
"A 2 ounce tube of Spectra 360 Electrode Gel can cost around $3 but it can last you for nearly a month of workouts and provide you with the assurance your data will be good," says Squire. He adds, "I've sung its praises for years and told thousands to go out and buy it at their local hospital pharmacy, so we decided it was time to carry my favorite brand."
The gel works great on embedded rubber transmitters and since Polar got rid of their Wearlink mesh fabric that is about all that is left in the world for serious athletes or people who are serious about data.
IT'S ALL ABOUT ELECTRO WHAT?
Water, which is what most heart rate monitor manufacturers recommend that you put on the strap prior to working out, has a viscosity of zero because it evaporates. "One of the great characteristics of gel is that it has a much higher viscosity and takes hours, rather than minutes, to evaporate and for receiving honest data this makes all the difference".
"Heart rate is such an important aspect of endurance sports and gaining a greater understanding of your own limits and capabilities that this is a small investment to make to get it right", says Squire.