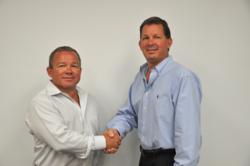 Houston, Texas (PRWEB) April 17, 2013
Taylor Norris, CEO Custom Air Products & Services, Inc. (CAPS), today announced that Ronnie Voelkel has been promoted to Vice President, Sales.
In announcing this appointment, Norris said, "Adding an additional member to our corporate management team was not a decision that was considered lightly. Our bottom line here at CAPS involves providing quality products and services to our customers that exceed their expectations and any decisions we make that do not support that goal are, frankly, not worth considering. Ronnie's time in the HVAC business, technical expertise, and ability to provide for customer needs all work together to achieve this desired customer satisfaction, as well as contributing to other business goals, at the same time. We here at Custom Air Products & Services are really looking forward to working with Ronnie as he strives to identify best practices within our Sales Team and leverage those across the team and across the business. This is the right time, and Ronnie is the right person, for taking on these tasks in our organization."
Ronnie joined CAPS in July 2004 and has held numerous positions across the company in addition to providing support in a wide array of capacities during his time there. Before moving to CAPS Ronnie spent 14 years in the industry, much of that time on the airside design part of the business.
Ronnie's move into corporate management is a strategic move for the company, related to growth, and expansion. It is also one that is designed to maximize on the creativity and innovation that he provides to the organization. As he begins to provide leadership, support, and direction to the Sales Team, Ronnie will continue to provide support to the company with regard to his design activities. Ronnie will also maintain his personal accounts, continuing to provide support to the customer base he has established.
About Custom Air Products & Services
Custom Air Products & Services, Inc. is a full-service HVAC company that specializes in the design, construction, installation, modification, and servicing of industrial and commercial air conditioning equipment. CAPS employees are committed to providing exceptional custom design and quality workmanship at competitive prices.
Custom Air Products & Services currently occupies five (5) modern facilities, totaling 200,000 square feet in size. These buildings include administrative and engineering offices, training facilities, a filter warehouse, and service shops for fabrication, manufacturing, and modifications. CAPS services are provided to customers throughout the United States and Mexico while their manufactured products have been delivered to sites around the world. Currently CAPS has equipment operating on six (6) continents and in 52 countries.
For more information, contact Custom Air Products at 713.460.9009 or visit them on the web at http://www.customairproducts.com.
###
If you'd like more information about this topic, please call Bea Amaya at 713.460.9009 or email her at bea.amaya(at)customairproducts.com.