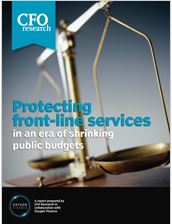 Unlike a private business, we don't have the ability to simply go out and make an investment that we know we need to make
Boston, MA (PRWEB) April 17, 2013
Feeling a tight financial squeeze, the leaders of public sector organizations are eager to identify new sources of income that will enable their organizations to maintain the quality and range of their much-needed services. So concludes a newly published research report, which is based on in-depth interviews with more than a dozen public finance executives in the U.S. and U.K
The study, Protecting Front-Line Services in an Era of Shrinking Public Budgets, was conducted by CFO Research and underwritten by Oxygen Finance, which operates a business-to-business payments network. The full report is available for download at cfo.com/research.
Executives at public agencies ranging from the County of Ventura in California (U.S.) to Surrey County (U.K.) told CFO Research that they now felt the need to extend their search for funding into new and nontraditional territory. Confronted by declining tax revenues and incessant budget cuts, public agencies are finding it increasingly challenging to maintain current levels of service. The organizations are also struggling to make the case for new capital investments, especially given government's relentless focus on controlling costs.
The 12-page report draws on interviews with financial executives at the county level in the U.K. and at the municipal, county, state, and federal levels in the U.S. The executives shared their frustrations about their current financial options, and outlined the need for new and substantial sources of revenue that could be delivered quickly and efficiently. As the report points out, most public authorities do not have much control over the income that funds their missions, which is typically established by elected bodies that base their calculations on tax-revenue projections.
The public funding process also imposes restrictions on the investment decisions that agencies can make. "Unlike a private business, we don't have the ability to simply go out and make an investment that we know we need to make," the finance chief of a state public agency in the U.S. told CFO Research. "We are appropriated a certain amount of money by the legislature and the governor, and under no circumstances can we spend beyond that limit."
The resultant budget squeeze forces agencies to make difficult decisions and be open to new approaches to finding revenue, balancing the need to trim costs against the demand for services—which, as the report points out, are more urgently needed than ever.
###
For Further Information:
Oxygen Finance Europe: Roberto.Moretti@oxygen-finance.com
Oxygen Finance Americas: Egan.Christensen@oxygen-finance.com
CFO Research: David Owens, Director of Research, CFO Research, 617-790-3280, davidowens(at)cfo(dot)com
Oxygen Finance (oxygen-finance.com) offers a complete service which enables corporate and public sector organizations to unlock income from their spend and transform procurement and accounts payable functions into revenue generators. The company's worldwide headquarters is in London; its U.S. offices are located in San Francisco.
CFO Research (cfo.com/research) is the research group at CFO Publishing LLC, which also produces CFO magazine, CFO.com, and CFO Conferences. The company is based in Boston.