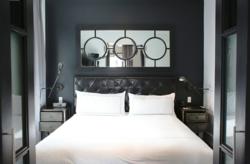 New York, New York (PRWEB) April 17, 2013
The Tribeca Film Festival begins today and Duane Street Hotel, a newly renovated boutique hotel at the corner of Duane and Church Streets, is bringing the Festival to life for guests and social media followers by offering insider news and updates of the international festival. Evie Phillips, the hotel's handpicked industry insider, will share her experience of attending the opening weekend festival events on the hotel's blog and social media pages.
"This is one of the most anticipated local events of the year in NYC. We always look forward to it and wanted to find a way to celebrate the festival and bring it to life," said Nicolas Daeppen, general manager of Duane Street Hotel. "As a member of the Independent Collection, Duane Street Hotel celebrates Tribeca and supports local events and happenings. Our involvement in the community allows us to share authentic experiences with our guests, creating memorable stays and helping them feel more connected to Tribeca and all that it has to offer."
The hotel selected Evie Phillips, beauty editor of Livid Magazine, from an open call for festival insiders. Evie will post reviews and videos of her experiences on Duane Street Hotel's blog and social media pages. Between screenings and festival events Evie will recharge from the comfort of her Duane Street Hotel guestroom.
The hotel just completed a renovation of all guestrooms and created two new suites that offer relaxed and sophisticated living spaces that embody downtown living at its finest. Duane Street Hotel's new bold and chic black and white palette is inspired by the 1920's, the early days of film. It's only fitting that the hotel pays homage to its cinematic look through celebrating the storied Tribeca Film Festival. Duane Street Hotel's festival coverage continues through April 21.
ABOUT:
Old New York meets European sensibility at Duane Street Hotel, a charming 43-room boutique Tribeca hotel which embodies all that is downtown New York – modern, stylish and undeniably fresh. The perfect place to return to after days and nights of exploring Tribeca's storied streets, you will enjoy relaxed comforts in a charming and stylish setting. From this peaceful reprieve, thoughtful services and amenities make each stay comfortable and convenient. Mehtaphor, Duane Street Hotel's lobby restaurant, is owned and operated by Celebrity Chef Jehangir Mehta best known for his Food Network appearances on Iron Chef America and Next Iron Chef. He is also the owner of East Village's Graffiti restaurant.
Duane Street Hotel is owned by Hersha Hospitality Trust (NYSE: HT) and managed by HHM. HHM currently operates 115 branded and independent hotels in the nation's leading markets. The company provides turnkey hotel management and asset management for properties with leading brand affiliations and the company's newly launched Independent Collection of which Duane Street Hotel is a member.
The Independent Collection is a growing collection of smaller, more intimate boutique lifestyle hotels located in truly unique neighborhoods of gateway cities across the U.S. The hotels of the Independent Collection are developed for the independently minded traveler and invite guests to experience the true spirit of the city.
For further information, please contact Duane Street Hotel at 212.964.4600 http://www.duanestreethotel.com
For all press inquiries, please contact Erin Branche at erin.branche(at)hhmlp(dot)com or 267.238.5038.