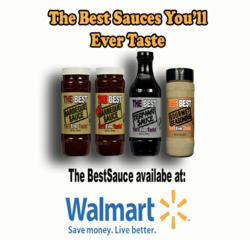 "This truly is the best I have ever tasted." - Janet Hannay, Senior Buyer Walmart Stores
Buena Park, CA (PRWEB) April 22, 2013
Jack Scalfani, the host of Cooking With Jack on YouTube, has just released his brand of food products in Walmart stores.
In 2006, Scalfani starting posting "cooking tip" videos on YouTube with the goal of drawing attention to his brand of sauces, aptly named "The Best Sauces You'll Ever Taste." In each video, he would direct people to his sauce website so they could order BBQ, Hot BBQ, Teriyaki and Gourmet Seasoning.
What Scalfani didn't realize was that the "cooking tips" turned into a very popular "cooking show" on YouTube, which has been watched over 12 million times.
Scalfani's show and sauces were recently featured on the front page of the Orange County Register and on ABC News.
YouTube named Jack Scalfani 2012's "Rising Star" and was chosen to be in the YouTube NextUp program as one of the most promising YouTube artists of 2013.
When Scalfani presented his sauces to Walmart, the senior national buyer said these sauces are the best she had ever tasted.
"The Best Sauces You'll Ever Taste" are available in 185 Walmart stores on the West Coast for millions to enjoy, making this the first food products to go from YouTube studios to Walmart shelves.
####
For more information, contact GiveMe Foods at info(at)givemefoods(dot)com or call 714.330.4703
Cooking With Jack Show: http://youtube.com/jakatak69
The Best Sauces Website: http://TheBestSauces.com
Feature Story in Orange County Register: http://www.ocregister.com/articles/scalfani-343887-says-food.html
Story on ABC News: http://abclocal.go.com/kabc/story?section=news/food_coach&id=8737533