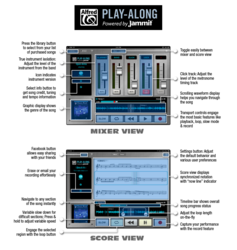 "Jammit's unique interface provides a great way to interact closely with these songs, making popular and classic tunes more accessible than ever before to players of any level."
Los Angeles, CA (PRWEB) April 16, 2013
Rocking out isn't just for guitarists anymore - the new Alfred Play-Along app, powered by Jammit® is the perfect tool for students or hobbyists to practice their instrument. Free to download, the app includes songs from popular movies, pop or rock artists, video games, holiday, sacred, and more, available for individual purchase within the app or at alfred.com/jammit.
Alfred Play-Along can be incorporated into the classroom, at-home practice, or performance. This interactive and engaging software allows instrumentalists to stay motivated, get the most out of practice, and refine technique, all while playing fun and exciting tunes.
"One of the best features of this app is the ability to record performance and practice sessions. As aural assessment becomes more and more important in schools, teachers can use this app to have students submit their recordings for grading," said Rich Lackowski, Director of Digital Business Development at Alfred Music.
The app, available on desktop, tablet, and mobile devices, contains a virtual mixing board, which can be used to mix levels of the lead solo, backing track, and click track. Instrumentalists can also follow along with the notation as each beat is highlighted in time with the music. The software also includes a click track, which can be switched on and off, and a tempo changer to speed up, slow down, or loop recordings.
"Our high-quality demo and play-along tracks were carefully constructed to provide an authentic play-along experience for each instrument," said Derek Richard, Vice President of Production, School/Church Publishing at Alfred Music. "Jammit's unique interface provides a great way to interact closely with these songs, making popular and classic tunes more accessible than ever before to players of any level."
Songs currently available on the app include music from the Harry Potter films, Led Zeppelin, The Rolling Stones, and more, for violin, viola, cello, trumpet, trombone, French horn, alto sax, tenor sax, clarinet, and flute. New songs will be added regularly.
Learn more about Alfred Play-Along by visiting alfred.com/jammit.
ABOUT ALFRED MUSIC
Alfred Music is the world's largest educational music publisher. Alfred produces educational, reference, pop, and performance materials for teachers, students, professionals, and hobbyists spanning every musical instrument, style, and difficulty level. Alfred's home office is located in Los Angeles, with domestic offices in Miami and New York as well as offices around the world including Australia, Germany, Singapore, and the United Kingdom.
Since 1922, Alfred Music has been dedicated to helping people learn, teach, and play music. Alfred currently has over 90,000 active titles. Alfred represents a wide range of well-known publications—from methods like Alfred's Basic Guitar, Alfred's Basic Piano Library, Premier Piano Course, Sound Innovations, and Suzuki, to artists like Led Zeppelin, The Rolling Stones, Bruce Springsteen, Sheryl Crow, Eagles, Cole Porter, and George and Ira Gershwin, to brands like Star Wars, Harry Potter, Lord of the Rings, Rolling Stone magazine, and Billboard.
In addition to its own titles, Alfred distributes products from over 50 companies, including Belwin, Daisy Rock Girl Guitars, Dover Publications, Drum Channel, Faber Music, Highland/Etling, Kalmus, Penguin, TASCAM, Ultimate Support, and WEA.
ABOUT JAMMIT
Founded in 2009 by world-renowned producer Scott Humphrey, Jammit® is the first music software that isolates individual audio tracks from the original multi-track master recordings and synchronizes each track with complete precision. Musicians can now play or sing their favorite song exactly the way the artist did, with the only 100% accurate transcription. A vast song library ranging from classic to contemporary includes songs from top artists like Toto, Boston, Deep Purple, Motley Crüe, Nickelback, Norah Jones and many, many more. Jammit users can isolate, loop, and vary the speed of individual instruments and vocals within the dense mix of a song without affecting the pitch. Jammit is available on the App Store for iPhone, iPad and iPod or as software for Mac or PC. Users can utilize their Jammit song files on multiple platforms for the price of a single download.