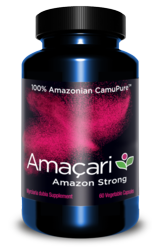 "I discovered the powers of this remarkable superfruit after a near-death accident that left me facing a long road to recovery."
Naples, FL (PRWEB) April 17, 2013
Amazon Origins today announced the launch of its health supplement Amaçari, made from 100% CamuPure from the Amazon. This superfruit, which is relatively unknown in the U.S. market, has been the subject of a number of scientific studies that have shown the berry's potential anti-inflammatory, antioxidant and anti-aging properties.
Amaçari is made from a berry grown primarily in the Amazonian River Basin of Brazil. Also known as Camu Camu or Caçari, this fruit has been scientifically shown to have potentially significant health benefits. With the highest known natural source of Vitamin C – about 30 to 50 times that of an orange – this fruit contains all the flavonoids and co-factors necessary for maximum absorption and utilization. The berry's 335 natural chemical compounds and phytonutrients, which are powerful anti-oxidants, can help keep one healthy, focused and full of vitality.
In order to maximize the nutritional potency of the fruit, Amaçari's 100% CamuPure uses only wildcrafted berries sustainably harvested from the Amazon at the peak of their ripeness. They are then turned to powder using a proprietary process that utilizes the whole fruit without any additional additives, fillers or preservatives.
"I discovered the powers of this remarkable superfruit after a near-death accident that left me facing a long road to recovery," said Jeff Moats, President and Founder of Amazon Origins. "After enjoying extraordinary results that I could not attribute to anything but this fruit, I began sharing it with friends. When they raved about the results and kept returning for more, I decided it was time to introduce it to the world, so we created the Amacari supplement."
Amaçari's Amazon Strong claim is more than just a slogan. The Camu Camu superfruit has demonstrated its superior performance in three different tests: (1) Vitamin C, which functions as a proven antioxidant to neutralize free radicals, contributes to healthy immune function and is necessary to maintain bone health; (2) Total Phenolics, which contribute to maintenance of healthy vision and heart, and bolster cellular antioxidant defenses; and (3) Total ORAC, which is a unit of measurement for antioxidants developed by the National Institute on Aging in the National Institutes of Health (NIH). Along with proving its potency in these 3 tests, Amaçari has also shown effectiveness in protecting cells against oxidation, inflammation and UV damage, and stimulating the anti-aging gene SIRT1.
Amaçari retails for under $30 for a bottle of 60, 500 mg capsules, which is the recommended month's supply. As an introductory offer and for a limited time, Amazon Origins is offering free shipping on all orders of two or more bottles.
Amaçari can be purchased online at http://www.CamuPure.com.
About Amazon Origins
The founder of Amazon Origins, Jeff Moats, has been intricately involved with sustainable agriculture throughout the vast Amazon Basin for the past 21 years and counting. Our Amaçari is made from only the finest wildcrafted Caçari that's been harvested by the rural, indigenous people of the Amazon Rainforest. We then process the whole Camu fruit under the most exacting standards into a highly concentrated powder without any fillers or elemental compounds for maximum potency.
For more information on Amazon Origin's Amaçari, visit CamuPure.com